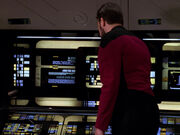 According to an okudagram created for the Star Trek: The Next Generation second season episode "The Royale", which was not visible on screen in the episode, the Jacob was a NASA spaceship launched in the late 2030s or early 2040s. Its mission was to conduct a follow-up investigation on the missing spaceship Charybdis, with which NASA lost contact in early 2038. According to official NASA reports, the Jacob's mission resulted in negative track.
The okudagram mentioning the Jacob, reproduced in Star Trek: The Next Generation - The Continuing Mission, contains the information Picard read on screen with regards to the Charybdis. Reference to the Jacob itself was not made in dialogue. The okudagram was later on reused in TNG: "The Ensigns of Command", with only some of the text that was legible on screen altered. The notes on the mission of Jacob still remained but were clearly not intended to be part of that screen.
Community content is available under
CC-BY-NC
unless otherwise noted.