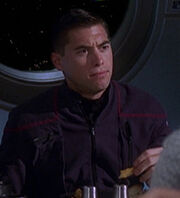 Jef Jon Ayres is an actor who played Crewman Haynem during the run of Star Trek: Enterprise. Ayres served also as Connor Trinneer's stand-in for seasons 3 and 4, replacing Mark Watson. His only on-screen credit and a line of dialog was in "These Are the Voyages...", Enterprise's series finale.
Ayres has played in the films The Majestic (2001, with David Ogden Stiers, Mario Roccuzzo, Frank Collison, Ken Magee, and Earl Boen), A Man Apart (2003, with Geno Silva, Jeff Kober, Marco Rodriguez, Jim Boeke, Charlie Curtis, and Thomas Kopache), Good Bad Karma (2006, written, produced, and directed by David Takemura), Razor Sharp (2006, with Chic Daniel), and Dream Slashers (2007).
He has also appeared in the television series The Jamie Foxx Show, Popular, and Passions, as well as in several stage plays.
Star Trek appearances
(This list is currently incomplete.)
External link
Community content is available under
CC-BY-NC
unless otherwise noted.