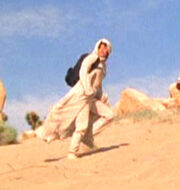 Jennifer Berlant is an actress who worked as photo double for Nicole de Boer in the Star Trek: Deep Space Nine seventh season episodes "Shadows and Symbols" and "Take Me Out to the Holosuite". Berlant and fellow photo doubles John Lendale Bennett, Todd Slayton, and Steve Wilson stood in for the actors Avery Brooks, Nicole de Boer, Cirroc Lofton, and Brock Peters in the wide shots filmed in Palmdale, California for the previous episode. (Star Trek: Deep Space Nine Companion) A uniform with a tag bearing her name was later sold It's A Wrap! sale and auction. [1]
Community content is available under
CC-BY-NC
unless otherwise noted.