House of the Dragon Trailer - The Loop
Play Sound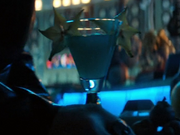 A jipper was a drink favored by Harcourt Fenton Mudd in the 23rd century.
The line "If I had any money, I'd be sipping jippers on a beach somewhere" was programmed into a number of replicas of Mudd collected by the USS De Milo.
The real Mudd did enjoy a jipper aboard his starship later, served by another android. (ST: "The Escape Artist")
When asked for his jipper recipe, Rainn Wilson specified it consisted of a lotus fruit flash-frozen along with the blood of a fleablox, and just a hint of lime – as well as 100-proof grain alcohol.
[1]
External link