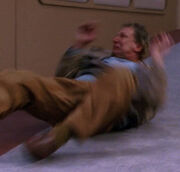 Johnny Miller (born 12 April 1935; age 85) is a stuntman and stunt actor who was the stunt double for guest actor Ken Jenkins in the Star Trek: The Next Generation third season opening episode "Evolution". He received no credit for his performance.
Miller was born in Newark, New Jersey. He has mainly performed in the 1970s and '80s, but is still working in the stunt industry.
He appeared in the James Bond film Diamonds Are Forever (1971, with Sid Haig and Marc Lawrence, and alongside stunt performers Paul Baxley, Lightning Bear, Richard E. Butler, Dick Crockett, Nick Dimitri, Donna Garrett, Carey Loftin, and Tom Steele), the drama Earthquake (1974, starring Genevieve Bujold), the thriller Judgment (1989, with Emilia Crow, Ed Lauter, and Thalmus Rasulala), and the action film The Doorman (1999, with Kevin Grevioux, Joey Anaya, Tanner Gill, and Glenn Goldstein). He was also a regular stunt performer for the television series Emergency! (1975-1979, starring Kevin Tighe) and appeared in several television specials of this series.
External link
Edit
Community content is available under
CC-BY-NC
unless otherwise noted.