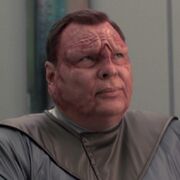 The Jye are a humanoid species native to the Delta Quadrant. Their race is known for their administrative abilities.
The Dinaali are one of many races that employ them for said administrative abilities. Hospital Ship 4-2, on Dinaal, is run by a Jye named Chellick. (VOY: "Critical Care")
Individuals
Named
Unnamed
Community content is available under
CC-BY-NC
unless otherwise noted.