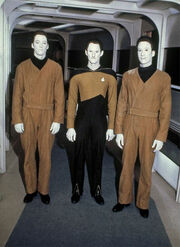 Ken Gildin (born 2 February 1955; age 66) is an actor and production staff member from New York who was the photo double for Brent Spiner in the Star Trek: The Next Generation first season episodes "Datalore" and "Heart of Glory". In addition he worked as an assistant to the writers and producers during the first season of TNG. Gildin received no credit for his appearance and work and is the writer of the undeveloped TNG episode "The Hands of Time". Gildin is featured as double for Spiner on two images in The Official Star Trek: The Next Generation Magazine issue 4, pp. 24-25.
In 1988 Gildin left TNG because of the writer's strike. He did not return after the strike and Guy Vardaman took over as Spiner's photo double.
Gildin is often misspelled as Ken Gilden and worked as an actor for ten years. His last studio position was at Walt Disney Home Entertainment. He is currently a screenwriter and writer of award shows and benefits, having written for such celebrities as Hillary Clinton, Elizabeth Taylor, Sally Field and Bruce Vilanch, to name a few.
Among his acting resume are the films Hair (1979, starring John Savage), Hostage Flight (1985, with Barbara Bosson, Mitchell Ryan, Allan Miller, Michael Cavanaugh, William Glover, and Ian Abercrombie), Total Recall (1990, with Ronny Cox, Michael Champion, Roy Brocksmith, Lycia Naff, Robert Costanzo, Marc Alaimo, Erik Cord, Frank Kopyc, Milt Tarver, Robert Picardo, Kamala Lopez-Dawson, and stunts by Gary Baxley, Simone Boisseree, Tony Brubaker, Ann Chatterton, Doug Coleman, Vince Deadrick, Jr., Nick Dimitri, Kenny Endoso, Dana Dru Evenson, Allan Graf, Freddie Hice, Joel Kramer, Steven Lambert, Gene LeBell, Steve Picerni, Cherie Tash, Gary Wayton, George Wilbur, and Vince Deadrick), and The Babe (1992, with James Cromwell, Bernard Kates, Danny Goldring, Shannon Cochran, Larry Cedar, Michael Krawic, Scott Haven, and Kara Zediker).
External link
Community content is available under
CC-BY-NC
unless otherwise noted.