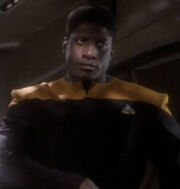 Kevin B. Grevioux is a Chicago-born actor, writer and producer who appeared as a regular background performer in the first three seasons of Star Trek: Deep Space Nine, mostly as a Starfleet security officer, but also as a Klingon.
Grevioux attended Howard University, initially studying genetic engineering before switching to film. After moving to Los Angeles, Grevioux met Eddie Murphy, who got him a role in a music video. (Cinefantastique, Vol. 24, No. 3/4, p. 96-97)
Grevioux played a parody of Worf in a skit for the very first episode of Mad TV. He also appeared in small roles in films such as The Mask, Batman Forever (which also featured Rene Auberjonois), Charlie's Angels, Planet of the Apes (with Erick Avari, Cary-Hiroyuki Tagawa, Anne Ramsay and David Warner), and Men in Black II (with Jack Kehler), and television series like Angel and Charmed.
Grevioux was the co-writer and associate producer of the hit 2003 film Underworld, in which he also played the supporting role of Raze. He went on co-produce the sequels, Underworld: Evolution and Underworld: Rise of the Lycans, again playing Raze in the latter film.
Uncredited Star Trek appearances
External links