Wiki Targeted (Entertainment)
Play Sound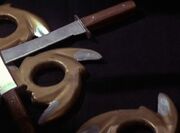 The kleegat was a three-sided, bladed Capellan weapon used by tribal warriors on the planet Capella IV. It was highly effective at any distance up to a hundred yards, and was said to be as effective against a man as a phaser.
In 2267, a Capellan used a kleegat to kill Grant, a Starfleet security officer, and Kras, a Klingon agent. (TOS: "Friday's Child")
According to the final draft of the script, dated 18 May 1967: "
We see a tribesman demonstrating the use of a
boomerang
-shaped weapon. Startling speed (film speed-up) as he throws it at a weed target in the distance, camera cutting to reveal the weapon neatly severing the weed exactly at the mark! An extremely long throw, with savagely expert aim.
"