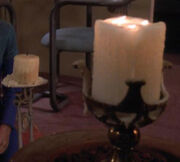 Kor'tova candles were ceremonial Klingon candles.
A lit kor'tova candle represented the fire that burned in a Klingon warrior's heart.
Before the age of thirteen, a Klingon child had to light his or her own kor'tova candle from the candle of another Klingon, thereby declaring his or her intention to become a warrior. If the young Klingon did not participate in the rite before turning thirteen, he or she would never be able to become a true Klingon warrior, though Worf did his at 15. (TNG: "Firstborn")
Community content is available under
CC-BY-NC
unless otherwise noted.