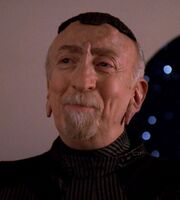 Kostolain was an inhabited planet that was the homeworld to a native species. In 2368, Campio served as third minister to the Conference of Judges on Kostolain during the time he was to be married to Lwaxana Troi.
The culture of Kostolain was reserved and exceptionally formal. Strict protocol was always followed and, in many cases, enforced by the presence of a Protocol Master. (TNG: "Cost of Living")
External link
Community content is available under
CC-BY-NC
unless otherwise noted.