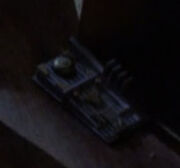 A krellide power cell, or krellide storage cell, was a type of power cell.
It was found as part of an old Vulcan transmitter. The transmitter that Trip Tucker used to reach Enterprise NX-01 when he was captured by the Andorians at the monastery at P'Jem used a krellide power cell. (ENT: "The Andorian Incident")
In 2367, the USS Enterprise-D had to escape a dark matter nebula. Captain Jean-Luc Picard decided to pilot a shuttlepod to help escort it, but lost control. Its krellide power cells were damaged, making manual control difficult to maintain. (TNG: "In Theory")
The term "krellide power cell" was devised by Rick Sternbach for the hand phasers seen in
Star Trek: The Next Generation
. It was also his nod to the ancient Krell civilization in the 1950 science fiction film
Forbidden Planet
. The prop depicting this power cell was later re-used as part of the Vulcan food processor in the fourth season episode "

Home

". According to Mike and Denise Okuda, this technology was developed by the Vulcans and adapted by Starfleet. (
"The Andorian Incident",
text commentary
,
ENT Season 1 DVD
special feature
;
Star Trek Encyclopedia
 (4th ed., vol. 1, p. 444))
Community content is available under
CC-BY-NC
unless otherwise noted.