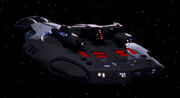 (
2368
)]]
Ktarian starships were small vessels used by the Ktarians during the 2360s. (TNG: "The Game")
The Ktarian starship model was a reuse of the Zalkonian warship from "Transfigurations" (TNG), which, in turn, was a heavily modified redress of the Tarellian starship from "Haven" (TNG). The model would later be reused as the Hunters' starship in "Captive Pursuit" (DS9).
This article or section is incomplete
This page is marked as lacking essential detail, and needs attention. Information regarding expansion requirements may be found on the article's talk page. Feel free to edit this page to assist with this expansion.