A laser tool was any type of tool that operated using lasers. Specific examples included laser drills, laser torches, and laser welders.
In 2370, Rom and Quark used a laser tool to unseal a strongbox they had located in Deep Space 9's old chemist's shop. (DS9: "Necessary Evil")
The tool was identified in the episode's script.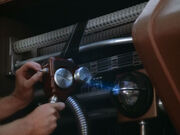 Tom Paris used a type of laser tool for conducting repairs in 2371, while working at the construction site at the New Zealand Penal Settlement. (VOY: "Caretaker")
The term "laser tool" comes from the props section on the call sheet for the day of filming.
On First Contact Day in 2385, the A500 unit F8 used this laser tool as a makeshift weapon to kill several workers at Tri-hy station A19 before turning it on himself. (PIC: "Maps and Legends")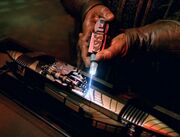 In an alternate 2404, Korath used a laser tool to modify a Cardassian disruptor. (VOY: "Endgame")
According to the script, the laser tool was used "to weld a component to" the weapon.