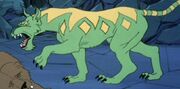 The Le-matya was a large predatory beast, bearing poisonous claws, native to the planet Vulcan. Le-matyas were known to live in the foothills of the L-langon Mountains along Vulcan's Forge.
In 2237, Spock encountered and was nearly killed by a Le-matya, while undergoing his kahs-wan ordeal. Spock was fortunately saved by his pet sehlat, I-Chaya, and his cousin, Selek, who was able to incapacitate the Le-matya with a Vulcan nerve pinch. Unfortunately, I-Chaya was injured by the Le-matya's claws and eventually succumbed to the poison. (TAS: "Yesteryear")
In the script of "Yesteryear", the species name
Le-matya
is consistently underlined, like no other word in the teleplay. Also, the script states, "
A
Le-matya
is a creature resembling a
mountain lion
... but it is huge, has an almost impenetrable leathery gray hide, and the poison of its claws and fangs is lethal.
" The creature was evidently animated with more colorful skin shades. For the
Le-matya
's growl, the quite famous call of Godzilla was used. (
Trek Navigator: The Ultimate Guide to the Entire Trek Saga
, p. 272) The novelization of "Yesteryear" (in
Star Trek Log 1
) is consistent with the scripted description of the
Le-matya
, referring to it as having a "leathery-grey hide."
External link
Edit