Star Trek Timeline [INTERACTIVE]
Play Sound
Lorine Mendell (born 23 August 1954; age 67) is the former actress who portrayed the recurring background character Diana Giddings during the seven year run of Star Trek: The Next Generation. She also worked as first unit stand-in and photo double for actress Gates McFadden on The Next Generation and the seventh feature film Star Trek Generations. Mendell received no on-screen credit for her appearances.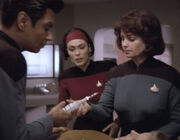 Her sciences division Starfleet jumpsuit was sold off at the It's A Wrap! sale and auction on eBay. [1] For some unknown reason, Mendell was wearing a brown wig during her brief appearance in sickbay in the fifth season episode "The Next Phase".
Mendell reprised her role as Diana Giddings for the final episode of Webster, titled "Webtrek", in 1989. Filmed during the second season of The Next Generation, she shared her bridge scenes with Michael Dorn, James G. Becker, and Dexter Clay as well as Webster star Emmanuel Lewis. Her only other known acting work outside of the Star Trek productions is the 1989 Hunter episode "Return of White Cloud" which also featured Charles Hallahan, Frank Salsedo, Bruce Davison, and James Whitmore, Jr.. There she received credit as "Woman #2".
In addition, Mendell worked as a stand-in for the following guest stars on The Next Generation:
On Friday 23 September 1994, Mendell worked as stand-in for Alicia Coppola on the Star Trek: Voyager pilot episode "Caretaker". She also worked as stand-in for Martha Hackett on the first season episodes "Phage", "Emanations", and "Prime Factors".
Born as Lorine C. Mendell in Pasadena, California, she attended the College of DuPage in Chicago, Illinois between 1972 and 1974 and the Benet Academy in Lisle, Illinois. She married her husband Thomas Stoikowitz and is today known as Lorine Stoikowitz. Prior to her work for Paramount Pictures, Mendell worked eight years as promoter and Director for Trade Relations at MCA/Universal Music. [2]
After her seven year run on Star Trek: The Next Generation, Mendell began working as a project coordinator for Nestlé USA in 1994 and left the company twelve years later, in 2006. In November 2006 she started to work as a regional marketing manager for Gentle Transitions of California, a company dealing with families overwhelmed by the relocation of a family member to all types of retirement facilities. Mendell has also worked as the Zest Gala Sponsorship Co-Chair at the Pasadena Senior Center since 2010 and also volunteers with several elder care organizations. [3]
Star Trek appearances
Appearances as Diana Giddings
External links