Forums → Ten Forward
STOP!  Read the following before you post for the first time: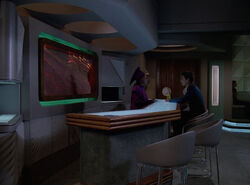 On Memory Alpha, Ten Forward is a forum where the members may gather to discuss various issues concerning the policies and operation of the wiki. It is not a place for idle conversation or off-topic discussion that doesn't directly concern Memory Alpha. You can use one of our social media outlets or our Discord for discussions like that.
The following types of questions do not belong in Memory Alpha's Ten Forward:
Newcomers' questions. Please take the time to read the introduction and help pages before posting questions.
Facts and canonical questions. Questions regarding specific facts of the Star Trek universe should be posted at the Reference Desk.
Issues concerning specific articles should be addressed on that article's talk page.
Please remember to sign and date your posts by typing four tildes ("~~~~") or clicking
the signature icon (
) in the edit toolbar.
Sections: General • International • Layout • Error • Policy • Archives
General
Topic
Last Post
Last Author
Alternate Timeline
17:47, 12 July 2022
Sulfur
SNW "reimaginings"
03:55, 9 July 2022
Wickedjacob2
What is the canon status of the Paramount+ closed captioning?
04:58, 4 July 2022
23skidoo
Creating blurbs for FAs without them
20:42, 17 May 2022
AJHalliwell
UCP bug report and feedback
01:43, 24 April 2022
Gvsualan
Production numbers
19:22, 15 March 2022
Gvsualan
Be up-to-date in March: Women's History Month, MediaWiki 1.37, and quizzes are here
13:35, 3 March 2022
Lady Lostris
Fandom's plans for the first quarter of 2022
13:59, 31 January 2022
Lady Lostris
Dropdown menus
23:39, 12 November 2021
UncertainError
800th episode
02:09, 2 September 2021
Gvsualan
The FandomDesktop opt-in is now LIVE
09:44, 1 September 2021
SketchFan98
"In-universe" and "real world" cross-creepage
14:08, 13 July 2021
Gvsualan
I Found Another One:
16:18, 24 May 2021
Renegade54
Hebrew Edition?
17:10, 17 May 2021
OmikronWeapon
FandomDesktop: deeper look into the changes
20:00, 1 May 2021
Lady Lostris
The Scotch Trekker: Qs for Tim Russ and Ronald B. Moore?
23:38, 23 March 2021
Defiant
Bug smashing efforts
16:28, 13 March 2021
Lady Lostris
Wiki to UCP migration
14:34, 26 January 2021
Lady Lostris
Dark Crystal wiki assistance
13:12, 13 December 2020
Sulfur
End of year feedback
15:07, 7 December 2020
Lady Lostris
UCP general feedback
20:03, 3 November 2020
Archduk3
List of series and films name abbreviations
13:19, 24 October 2020
Sulfur
Humanoid species article issues
21:02, 8 October 2020
DelBeccio-bot
Wiki Manager introduction
23:37, 5 August 2020
Lady Lostris
Not Sure Where to Make This Request
14:58, 20 July 2020
Archduk3
International
Discussion of topics concerning the whole international community of Memory Alpha.
Layout
Discussion of topics concerning the "look and feel" of Memory Alpha - stylesheet changes, formatting of standard page elements, etc.
Error
Bug reports, etc.
Policy
Policy related discussions, etc.