Star Trek Timeline [INTERACTIVE]
Play Sound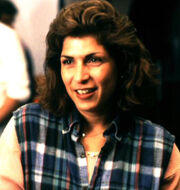 Merri D. Howard (born 20 July 1957; age 64) was a producer and assistant director for Star Trek: The Next Generation, Star Trek: Voyager and Star Trek: Enterprise. She also received "special thanks" in the credits of Star Trek: First Contact and Star Trek: Insurrection. In 1994, Howard was part of the production team of Star Trek: The Next Generation which received an Emmy Award nomination for Outstanding Drama Series. She shared this nomination with Rick Berman, Michael Piller, Jeri Taylor, David Livingston, Peter Lauritson, Ronald D. Moore, Wendy Neuss, and Brannon Braga.
Her name was referenced in several on-screen okudagrams throughout all the television series:
In addition, the maiden name of the character of Beverly Crusher was established to be Howard in homage to her. (Star Trek Encyclopedia (2nd ed., p. 197))
After Jonathan Frakes was injured during a stunt in the 1991 The Next Generation episode "Qpid", Howard drove him to the hospital in Hollywood. (Selected Crew Analysis: Year Four, TNG Season 4 DVD special features) Howard was interviewed in 2001 for Star Trek: The Magazine Volume 1, Issue 22 and can be seen on two trading cards in the series Star Trek: The Next Generation - Behind the Scenes and The Making of Star Trek: The Next Generation. She was also interviewed by Larry Nemecek in 1995 for the Star Trek: Communicator issue 104.
Howard started to work under the name Merri Howard-Gorrin as stage manager on the television series Brothers in 1984, which featured TNG guest star Hallie Todd. She then worked as second assistant and later first assistant director on the television series MacGyver (1985-1987).
After the end of Star Trek: Enterprise, Howard served as producer on the television series Just Legal (2005-2006). In 2006 she joined the production of the drama series Cold Case, first as line producer, then as producer, and since 2008 as co-executive producer. The series paired Howard on the production team with Voyager star and director Roxann Dawson. In 2010 she worked as producer on the drama series The Whole Truth; most recently she worked as producer on the political drama series Scandal.
Howard is married to Merrill Sindler and her daughter Sarah Jenny was born on 27 October 1998.
Star Trek credits
External link