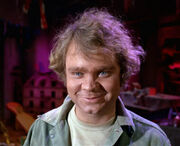 Michael J. Pollard (born 30 May 1939; age 80) is the actor who played Jahn in the Star Trek: The Original Series episode "Miri".
Pollard has been acting since 1958. A character actor, he has accumulated almost a hundred appearances in movies and television series since then. He was 27 at the time he portrayed Jahn, a teenage character, but his baby-faced looks won him the role.
In 1967, Pollard earned an Academy Award nomination as Best Actor in a Supporting Role for his role of C.W. Moss in the film Bonnie and Clyde. He also earned two Golden Globe nominations for that role, one for Best Supporting Actor and one for Most Promising Newcomer. In addition, his performance in Bonnie and Clyde won Pollard a BAFTA Award as Most Promising Newcomer to Leading Film Roles.
Filmography
External link