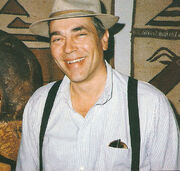 Michael Ray Rhodes (born 11 July 1945; age 74) is a Hollywood television director. He directed the Star Trek: The Next Generation first season episode "Angel One". Rhodes was interviewed by Pat Jankiewicz for the article "Michael Rhodes - Herald of "Angel One", published in The Official Star Trek: The Next Generation Magazine issue 19, pp. 36-40.
Rhodes agent brought him into a contract with Paramount Pictures who want him to direct an episode of The Bronx Zoo. Part of this contract was, that he also directed an episode of Star Trek. Rhodes recalls about his ffirst meeting with Gene Roddenberry that there was no actual script, four days before the episode went into production. Rhodes previously worked with Wil Wheaton in an 1981 afterschool special. (The Official Star Trek: The Next Generation Magazine Vol. 19, pp. 36-38) According to Wil Wheaton, Rhodes had severe arguments with the rest of the cast while filming "Angel One". Probably this is the reason why he was never asked to direct any more episodes of Star Trek. [1]
Rhodes has directed for several other television series, including Fame (a series which featured Graham Jarvis, Dick Miller, Eric Pierpoint, and Madlyn Rhue as regulars at one time or another), China Beach (starring Robert Picardo, Megan Gallagher, Jeff Kober, and Concetta Tomei), and Beverly Hills, 90210. He also directed episodes of the short-lived series This Is the Life, starring Next Generation actor Jonathan Frakes as well as Henry Darrow, Nehemiah Persoff, Brock Peters, Joan Pringle, and Andrew Robinson, and A Year in the Life, a series starring Richard Kiley and Diana Muldaur. His work on China Beach earned him four Emmy Awards and a Humanitas Prize Award.
However, the majority of his credits have been made-for-TV movies. These include The Fourth Wise Man (1985), In the Best Interest of the Children (1992, starring Gary Graham), Heidi (1993, starring Noley Thornton in the title role), Christy (1994), Entertaining Angels: The Dorothy Day Story (1996, featuring Brian Keith), and Co-ed Call Girl (1996, starring Star Trek: Voyager's Jeri Ryan and featuring Herta Ware and Dell Yount).
External link
Edit
Community content is available under
CC-BY-NC
unless otherwise noted.