Mind control was any method of influencing the actions of another sentient being. It could range from absolute control, where the subject has no will of his or her own, to more subtle forms, such as suggestion. Some forms of mind control leave the victim aware that he behaved against his will, while others leave him believing that his actions were his own. Mind control can be performed psionically or mechanically. Some Federation species, notably Vulcans, are able to perform very limited forms of mind control, more akin to strong suggestions. Mechanical mind control is beyond the generally available technology of the 24th century (but see neural neutralizer for an example of a 23rd century approach).
Mind control was sometimes referred to by the historical term brainwashing, a term that had fallen out of use by the mid-23rd century and that was called inaccurate by Data in 2367. (DIS: "Despite Yourself"; TNG: "The Mind's Eye")
During the 23rd century, the Manchurian test might be used to detect the installation of commands or personality engrams underneath a functioning consciousness. It was deemed highly effective. (DIS: "Despite Yourself")
Examples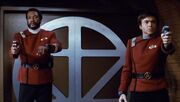 See also
External link
Community content is available under
CC-BY-NC
unless otherwise noted.