Line 1:
Line 1:
 

[[Image:Narik.jpg|thumb|Narik]]

 

[[Image:Narik.jpg|thumb|Narik]]

−

'''Narik''' was a member of an [[Jaheel's species|unknown species]]. He was part of a group of mercenaries, led by [[Arctus Baran]], who attempted to pillage [[archaeology|archaeological]] sites for profit.

+

'''Narik''' was a [[]] [[Arctus Baran]], who attempted to pillage [[archaeology|archaeological]] sites for profit.

 
 
 

[[Jean-Luc Picard]] became a member of this group as part of a covert operation to infiltrate it. Narik was the chief engineer on the mercenary ship. He was controlled by a [[neural]] device that inflicted great pain. He was killed by [[Tallera]], another member of the group, with a [[psionic resonator]]. ({{TNG|Gambit, Part II}})

 

[[Jean-Luc Picard]] became a member of this group as part of a covert operation to infiltrate it. Narik was the chief engineer on the mercenary ship. He was controlled by a [[neural]] device that inflicted great pain. He was killed by [[Tallera]], another member of the group, with a [[psionic resonator]]. ({{TNG|Gambit, Part II}})

Line 6:
Line 6:
 

:''Narik was played by [[Cameron Thor]].''

 

:''Narik was played by [[Cameron Thor]].''

 
 
−

[[Category:Individuals]]

+

[[Category:]]

 
 
 

[[de:Narik]]

 

[[de:Narik]]
---
Revision as of 15:26, 28 August 2008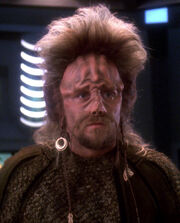 Narik was a Boslic mercenary who worked under Arctus Baran, who attempted to pillage archaeological sites for profit.
Jean-Luc Picard became a member of this group as part of a covert operation to infiltrate it. Narik was the chief engineer on the mercenary ship. He was controlled by a neural device that inflicted great pain. He was killed by Tallera, another member of the group, with a psionic resonator. (TNG: "Gambit, Part II")
Narik was played by Cameron Thor.
Community content is available under
CC-BY-NC
unless otherwise noted.