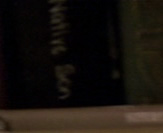 Native Son was a novel, written in 1940 by Richard Wright. It focused on racial inequality and social injustice in the United States of America.
Benny Russell referenced Native Son when he was talking about other African-American writers. (DS9: "Far Beyond the Stars")
The 1940 theatrical production of
Native Son
was directed by Orson Welles and featured Joseph Pevney in cast.

Another character played by

Avery Brooks

, Bob Sweeney mentions the novel in the 1998 film American History X

.
External link
Edit