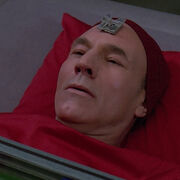 The neural caliper was a small device often used as part of the preparation for surgery. It was placed on the patient's forehead and, when activated, it caused the patient to lose consciousness via an anesthetic effect.
In 2365, a neural caliper was used on Captain Jean-Luc Picard during surgery to have his artificial heart replaced on Starbase 515. (TNG: "Samaritan Snare")
Community content is available under
CC-BY-NC
unless otherwise noted.