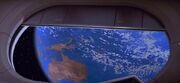 New Guinea was an island located north of Australia, on Earth.
In the 17th century, New Guinea was known to Europeans as "Nova Guinea" ("New Guinea"). In a contemporaneous map, this continent was depicted on a map of the Indian Ocean region. (Star Trek: Enterprise, opening credits)
On July 2nd 1937, Fred Noonan and Amelia Earhart left New Guinea in their airplane heading East trying to fly around the world. (VOY: "The 37's")
In 2063, when Jean-Luc Picard wanted to prove Lily Sloane they really were on a spaceship orbiting Earth, he opened a hatch to space and pointed out Australia, New Guinea and the Solomons to her. (Star Trek: First Contact)
The 17th century map, known as "Harmonia macrocosmica seu atlas universalis et novus, totius universi creati cosmographiam generalem, et novam exhibens", was created by Andreas Cellarius. A scan of the original can be found here.
External link
Community content is available under
CC-BY-NC
unless otherwise noted.