Okudagram is the affectionate name given to the interactive (and usually re-organizable) displays found on control panels and computer interfaces in 23rd and 24th century starships, and beyond. The okudagrams displayed by an LCARS computer have an easily readable and recognizable graphical interface for easy access. (The Making of Star Trek: Deep Space Nine, Star Trek: Deep Space Nine Companion)
The nickname is a reference to Michael Okuda, a technical adviser, scenic artist and art department supervisor who created the definitive signage styles for a new design of control panel, without any physical controls, that was used in the later Star Trek movies and Star Trek: The Next Generation-era productions. They were also used, in conjunction with more "primitive" physical controls, in the prequel series Star Trek: Enterprise.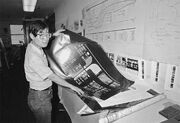 Okudagrams were originally made by underlying designs cut out of black film with backlit colored stage light filters or "gels." In later years, however, they were created in computers that used large graphic printers. Not only did the final product look sleek and high-tech, okudagrams required less time and money to make than mechanical control panels with working buttons and switches. Under Gene Roddenberry's directive that computer interfaces be as unobtrusive as possible, okudagrams initially incorporated little action into their design. Nevertheless, over time, okudagram designs came to integrate more vivid color schemes and real video screens as part of their construction.
Okuda and the various art staffers were well known for placing "in-jokes" in the text and graphics of these decorative panels and signage, which were often used, through various photography methods, to show the audience crucial plot points. Likewise, there are many minor information details that only appear on okudagrams, such as planets, dates of events, biographical details of characters etc. The Federation LCARS style is very distinctive and has become the norm for many Star Trek publications, as well as a very common design for websites dedicated to Star Trek, including the official site before the 2003 redesign.
The first okudagrams appeared in Star Trek IV: The Voyage Home, and the last were seen in "These Are the Voyages...", the last episode of Star Trek: Enterprise.
The call sheet for the second day of filming of Star Trek: Voyager pilot episode "Caretaker", Wednesday 7 September 1994, listed an "Okudagram" for scene 32 as an art/graphics requirement in the special instructions section.
Community content is available under
CC-BY-NC
unless otherwise noted.