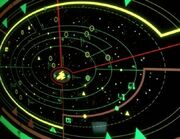 The Olmerak system, often just referred to as Olmerak, was a star system located in Cardassian space. During the Dominion War, it hosted a Dominion base, which contained at least one battalion of Jem'Hadar attack ships.
In 2375, Damar and Weyoun 7 ordered four attack ships from Olmerak to pursue and eliminate the runabout transporting Odo and Weyoun 6 before Weyoun could defect to the Federation. (DS9: "Treachery, Faith and the Great River")
External links
Community content is available under
CC-BY-NC
unless otherwise noted.