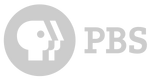 PBS (or Public Broadcasting Services) is a non-profit public broadcasting television service in the United States. It was founded in 1966.
Many Star Trek actors have made appearances on PBS productions, including Donna Murphy and Mark Lenard. LeVar Burton acted as host on Reading Rainbow for a number of years. Rick Berman was a producer for the broadcaster.
In 1995, PBS produced The Science of Star Trek, featuring a number of Star Trek actors and production staff. In 2017 PBS was licensed by the Smithsonian Institution to produce a DVD version of its Star Trek: The Real Story documentary, which was released the following year. [1] [2]
External links
Edit
Community content is available under
CC-BY-NC
unless otherwise noted.