Star Trek Timeline [INTERACTIVE]
Play Sound
Return of the serpent! (Part 1 of 3)
Log entries
The Enterprise and her crew are in a stable orbit around the class M planet Gamma Trianguli VI…
Captain's log, stardate 8955.4

Executive Officer Sulu recording… The Enterprise maintains her orbit around Gamma Trianguli VI… And all goes well…
Background information
Creators
Characters
Canon characters listed below are linked to the main article about them. Non-canon characters are not linked, but those that recurred, appearing or being mentioned in more than one story, are defined further in DC TOS volume 1 characters.
Regular and recurring characters
Other characters
Leader of the Vaalites, a sect of Vaalians that still wished for Vaal to return so that they could again serve him. In the two decades since the fall of Vaal, Akuta had become aged without the beneficial protections of Vaal's energy fields.

Nancy Bryce
Leader of the main population of Vaalians when the landing party arrived in the 2280s. Makora had tried to remember and emulate the ways of the original Federation landing team in order to please them that their will was being done on the planet. Makora drugged the Starfleet officers to see whether or not they were truly gods.

Konom

Klingon expatriate granted an honorary Starfleet commission as ensign by Captain Kirk. Konom's pacifist ways were challenged as he was forced to fight an illusory dinosaur, against his will, to save his Federation comrades. When the rest of the team was drugged, Konom's Klingon physiognomy allowed him to stay conscious, but he chose to run rather than fight the numerous native guards.
References
The dinosaur that attacked the Federation party turned out to be an illusion.
Makora used a powerful hallucinogenic narcotic to incapacitate the away team.
Refit-design Constitution-class starship.
Marodilus-D

Location.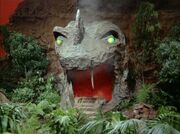 Computer that formerly ruled the planet Gamma Trianguli VI. Vaal was destroyed in the 2260s at the order of James T. Kirk.
External link