Star Trek Timeline [INTERACTIVE]
Play Sound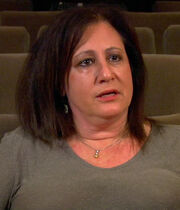 Phyllis Strong is a writer of many Star Trek: Voyager and Star Trek: Enterprise episodes. She also served as story editor on the seventh season of Voyager, as executive story editor on the first season of Enterprise, and as co-producer on the second and third season of Enterprise.
P. Strong, a name on the dedication plaque of Enterprise NX-01, was named after her. Strong also recorded the audio commentary for the episodes "Dead Stop" and "Regeneration" along with Mike Sussman on the ENT Season 2 DVD and was interviewed in Star Trek: The Magazine Volume 2, Issue 4 (2001, "Star Trek: Voyager: The Writers Look Back") and Star Trek: The Magazine Volume 2, Issue 11 (2002, "Writers for Star Trek: Voyager and Enterprise").
Prior to her work on Star Trek, Strong wrote the Hercules: The Legendary Journeys episode "Darkness Visible" in 1999 and stories for the science fiction series Hollywood Off-Ramp in 2000.
Star Trek credits
As Writer
As Executive Story Editor
External link