Star Trek Timeline [INTERACTIVE]
Play Sound
Polar Lights Models is a manufacturer that produces Star Trek model kits, starting in 2003, as then regular kit producer, AMT/Ertl, started to wane in their releases of its Star Trek-line. Currently featuring a substantial line for themselves, two releases in particular, the highly detailed 1:350 scale models of the original USS Enterprise and its refit successor, are highly acclaimed in the Star Trek modeling community.
History
Polar Lights Models was the model kit-making division of toy company Playing Mantis, set up in 1994 with the specific intention to reissue Aurora Plastics Corporation's signature monster and science fiction kits of the 1960s and 1970s. The company's name itself was an homage to "Aurora" (both references to the northern and southern polar lights). Apart from the figurine kits, the company also produced scale models of famous vehicles from various TV and movie projects, such as the Ghostbusters ECTO-1 and the Back To The Future Delorean Time Machine, which was originally designed by later Star Trek alumnus Andrew Probert.
Star Trek association
In 2003, Polar Lights started to release Star Trek model kits, including some not previously released designs, having been given the license as then owner of AMT/Ertl (hitherto the regular licensed manufacturer of Star Trek model kits), Racing Champions, showed no interest to develop the Star Trek model kit line any further. At that moment in time, no Star Trek model kits had been marketed for four years. Unfortunately, holding company Playing Mantis itself was acquired on 7 June 2004 by the same Racing Champions and production of new model kits was halted immediately by the new owner, resulting in 2006 in the announcement of Polar Lights' closure, due to the elimination of the brand. [3]
Still, one year later in 2007, the product line of Polar Lights was sold to Round 2 LLC, having also acquired AMT the same year, and the brand was revived in 2008, resulting in that all active US-based licensed Star Trek model kit manufacturers were once again united under one roof. In June 2009, Round 2 indicated that by 2010, they would start releasing entirely new models under the Polar Lights brand, starting with the alternate reality USS Enterprise from Star Trek and the USS Thunderchild from Star Trek: First Contact. However, these two have been canceled as of 2012.
Having already started to occasionally release the below-mentioned accessories sets on behalf of sister company AMT in order to enable their customers to customize their Star Trek kits, the relationship between the two was from 2018 onward further strengthened when the box-art style was synchronized for their respective Star Trek model kit releases. This is conceivably a harbinger for a possible impending merger, especially when considering that Round 2 has apparently appointed Polar Lights as the lead company to release truly new Star Trek model kit designs as evidenced by those from Star Trek: Enterprise and Star Trek: Discovery, whereas those from AMT are limited to (retooled) reissues – whether or not differently scaled – of the ones they had already released prior to their acquisition by Round 2.
In July 2021, Polar Lights released a newly scaled and tooled USS Voyager model kit, indicating that the Star Trek: Voyager license had in the mean time been acquired for the North-American home market by Round 2 as well, which meant that all official Star Trek model kits were now produced under a single roof for the first time since Revell-Monogram acquired the original Voyager license around 1994 – for the home market that is, as Revell-Germany and Eaglemoss Collections (holding an one-off specialty license, which is also valid on the home market, contrary to the one held by Revell) still hold an official model kit license as well for the EU as of 2021, the only two other companies anywhere in the world to be awarded one.
Star Trek releases
Excepting the 1:350 scaled model kit line, Polar Lights releases all its other Star Trek model kits in its so-called "snap-it" style (meaning that in theory at least, no glue is required for assembly) with detailed decal sheets included. No glue or paint were included with these "snap-kits".
Grey Mold. Fits the separate released Lighting Kit.
Item
Scale
Release
Item No.
Notes
Boxart
USS Enterprise
1:1000
2003
PL4200
This kit can be built in three versions: the Enterprise seen in "

The Cage

", that seen in "

Where No Man Has Gone Before

", and the standard "production version" seen in later episodes
2008
POL803
Reissue of PL 4200; acquisition by Round 2; new numbering; two issues in 2008 each with different box art.[1]
2012
POL889
Lunchbox tin edition
1:350
POL880
Original detailed tooling; with interior bridge, shuttlebay and in-scale Class F shuttlecraft; avant-premiere edition for "1701 Club" subscribers, limited to 1701 pieces and regular edition with differing box art
1:1000
2013
PL908
"

Space Seed

" edition; with in-scale SS Botany Bay; Botany Bay first truly new Star Trek model kit design since 2003 by either AMT or Polar Lights
1:350
2016
POL938
50th anniversary edition; Reissue w/ detailed bridge and smooth saucer parts
1:1000
2015
POL936
Pre-painted "snap-fit" issue; not associated with the similarly executed AMT releases of the same year
1:350
2021
POL978
Pre-assembled and pre-painted "Display Model"
POL993(M)
Re-release with parts for first and second pilot episodes or series version; with hangar bay and tiny bridge.
Enterprise NX-01
1:350
2003
PL4201
Featuring over 200 pieces and clear parts for lighting
1:1000
2005
PL53028
Along with PL4204 (see below) one of only two kits allowed by Racing Champions to reach retail under its ownership
2008
POL807
Reissue of PL53028; acquisition by Round 2; new numbering; two issues in 2008 each with different box art
1:350
2013
POL902
Reissue PL4201; boxart by Doug Drexler
1:1000
2014
POL898
Contains parts to construct either a standard NX-class or a refit NX-Class; boxart by Doug Drexler
2019
POL966(M)
Reissue POL898
Klingon D7-class Battle cruiser
1:1000
2003
PL4202
This kit can be built and labeled as either the standard Klingon version or the Romulan version seen in "

The Enterprise Incident

"; Polar Lights original, not associated with the AMT rlease.
2008
POL806
Reissue of PL4202; acquisition by Round 2; new numbering; two issues in 2008 each with different box art
2013
POL897
Released as Romulan battle cruiser with matching decals
2015
POL937
In the original colors of the studio model pre-painted "snap-fit" issue; not associated with the similarly executed AMT releases of the same year
Star Trek Nemesis Reman Scorpion-class fighter
1:33
2003
PL4203
With Jean-Luc Picard and Data cockpit figures
USS Enterprise-A (or Refit)
1:350
2004
PL4204
Featuring a full interior shuttlebay, three small shuttlecraft, TMP-Style Work Bee pod, botanical garden, conference room and VIP lounge; includes a large number of clear parts to facilitate lighting of the kit; two box variants; box-art by Chris White
2009
POL808
Reissue of PL4204; acquisition by Round 2; new numbering; new box
1:1000
2010
POL820
New tooling, not associated with the AMT releases; with "Aztec"-paneling decals; box-art by Andrew Probert
1:350
2017
POL949
Reissue with new box art
1:1000
2020
POL974(M)
"Wrath of Khan Edition"; POL820 reissue with Star Trek II: The Wrath of Khan damage decals
USS Reliant
1:1000
2014
POL906
New toolings, not associated with the AMT releases
2020
POL975(M)
Companion release for POL 974(M); POL906 reissue with Wrath of Khan damage decals
Romulan Bird-of-Prey
2015
POL934
New toolings, not associated with the AMT releases
Star Trek: The Motion Picture Klingon Battle Cruiser K't'inga-class IKS Amar
1:350
2018
POL950
New toolings, not associated with the AMT releases; 2 feet half studio scale model; new "near black" and clear mold; lighting kit MKA031 separately available. First kit released with synchronized box-art as concurrently employed by sister company AMT.
USS Defiant
1:1000
POL952
New toolings, not associated with the AMT releases; USS Grissom first truly new Star Trek model kit design since 2013 by any officially licensed model kit company. POL957 with revised box art for 2022 reissue as companion release for POL991(M).
Star Trek III: The Search for Spock USS Grissom & Klingon Bird-of-Prey
POL957
2022
USS Discovery (NCC-1031)
1:2500
2019
POL961(M)
With metallic decals; first official model kit released based on Star Trek: Discovery
2021
POL979(M)
Pre-assembled and pre-painted "Display Model"
USS Shenzhou (NCC-1227)
2019
POL967(M)
USS Enterprise NCC-1701 (Discovery-retcon version)
POL971
1:1000
2020
POL973(M)
Issued with optional lighting kit
Galileo Shuttlecraft
1:32
POL909
11 in / 23 cm, no interior, clear parts for lighting, essentially a newly retooled reissue of AMT S595 from 1974 without the interior
USS Voyager
1:1000
2021
POL980(M)
New, improved tooling; Polar Lights original, not associated with the Revell-Monogram releases
POL992(M)
"Clear Edition"; cast in transparent plastic for lighting purposes
USS Grissom (NCC-638)
1:350
2022
POL991(M)
Molded in white with clear parts; decals for 6 different ship versions; optional rear details TNG/The Search for Spock
Canceled releases (box art as proposed)
USS Enterprise (alternate reality)
1:2500
2010
POL836
This kit was developed using Ryan Church's CGI scans provided by ILM from Star Trek. Slated for a postponed 2011 release [4], but eventually canceled in 2012
USS Thunderchild
1:1000
n/a
to be confirmed [5]; canceled as of 2010.[2]
↑

Box variants confirmed on second hand market websites such as eBay – where privately shot photographs of the modelkits are featured. These sites are also consulted to verify actually released box-art as Polar Lights invariably markets deviant pre-release solicitation box-art.

↑ A fan favorite, the design was slated for a 2009 release, but was canceled later the following year without much further ado, despite being in an advanced state of development and having secured the input of Designer Alex Jaeger. [1] The company has later stated that they felt the ship was not the right choice as the debut outing in their new 1:1000 scaled product line – actually already started in 2003 with PL4200 – , as it was not a "hero-ship", fearing it would not sell well enough to cover development costs; the sentiment was certainly not shared by fans. [2]
The 1:350 scaled model kit line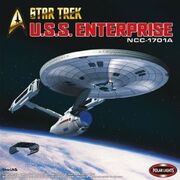 Of the Star Trek model kit line from Polar Lights, the 1:350 scale line is generally considered as its show piece.
In 2004 Polar Lights released a highly detailed 1:350 scale refit-USS Enterprise model kit. Measuring 35 inches long when assembled, it was the largest officially licensed Constitution-class model kit released to date. [6] Polar Lights did put a lot of research into the development of the model kit to make it as accurate as possible, having sought the advise from the refit co-designer, Andrew Probert – who would also do the box-art for the 1:1000 scaled 2012 spin-off release. Very noticeable features of the model kit were the inclusion of a full interior shuttlebay as originally designed by Probert, three small in-scale shuttlecraft and a Work Bee pod, the botanical garden, the conference room and the VIP lounge. The development of the model kit caused the release of it to be postponed several times, and by the time the model was ready to be released, in the tail-end of 2004, Polar Lights had already been acquired by new owner Racing Champions, who immediately halted the release of new model kits. Nevertheless, they made an exception for this model kit and allowed the release to go through. Despite the relatively high price tag attached to it, the model kit was critically acclaimed by the model kit community [7], and when Polar Lights resumed production under new ownership (Round 2 LLC), it was reissued in 2009.
Buoyed on by the success of the model, Polar Lights embarked on the project of developing a similar model kit of the original configuration Enterprise. For its development the company took it up a notch by hiring Gary Kerr as consultant. Kerr is arguably the person, still living, who is most intimately acquainted with the original studio model of USS Enterprise. He acquired his knowledge when he took for his personal edification numerous photos and measurements of the original model, when it was at at Ed Miarecki's model shop, Science Fiction Modelmaking Associates, when the latter was engaged in the 1991 restoration of the model for the 1992 Star Trek Smithsonian Exhibit. He expanded upon his knowledge five years later by composing detailed construction blueprints of the original model, at the behest of his friend Gregory Jein for his construction of the 5.5 foot studio model for the Star Trek: Deep Space Nine episode "Trials and Tribble-ations". Back in in the summer of 2002, Kerr had already served as consultant for Polar Light's 1:1000 2003 release of the original Enterprise. (Sci-fi & fantasy modeller, Vol. 26, p. 46) Jamie Hood, Polar Lights' brand manager, has expressed his appreciation for Kerr's involvement, "Gary's involvement in the new kit design has been a tremendous asset. His extensive knowledge has allowed us to add intimate details to the model. This kit will be the most accurate representation of the ship produced since the original filming model." [8] Several years in the making and highly anticipated, the model kit was released late 2012, and it too was favorably received by the model kit community. [9] Like its predecessor, noticeable features were the inclusion of interior features, which included the bridge, shuttlebay and in-scale Class F shuttlecraft. When assembled the model measured 32 inches, the same size as the original three-foot studio model.
Kerr himself has written a four-part article for the UK magazine Sci-fi & fantasy modeller (starting in volume 26, 2012) that chronicled in detail his personal involvement with the USS Enterprise NCC-1701, including his experiences with Miarecki, Jein, and CBS Digital, as well as the development of the Polar Lights model kit in particular.
The two Enterprise kits had actually already been preceded in 2003 with that of the NX-class, conceived and researched in the same vein as its two successors, whereas the K't'inga-class joined the 1:350 line in 2018, followed by the USS Grissom in 2022.
Accessories sets
Fully aware that the two 1:350 Constitution-class Enterprise kits were considered the flagships of their Star Trek model kit line, Polar Lights started to release so-called "after-market" (meaning after the original release of the associated model kit) accessories sets for the two kits in order to enable modelers to further modify and finetune detailing on the model, which they believed would meet the scrutiny of even the most discerning fans. [10] The first two, released in 2011 were applicable to the refit models, whereas six additional sets were released in 2012 for the original configuration model. Beginning with item MKA003, an off-shoot of the refit-Enterprise decal sets, was released in 2011, as a courtesy to sister company AMT, who had reissued their 1:537 scale model kit of the USS Reliant that year. Additional courtesy sets were to follow and were released under the AMT brand, but are listed here, as they continued to follow the numbering as instituted by Polar Lights.
Most of the accessories sets are packaged in clear plastic bags, featuring either a sticker on the bag, or being closed at the top by a stapled-on imprinted double-folded carton, one side of wich running all the way through on the back in some cases – such as the pictured set MKA012. Some of the more elaborate sets though, are packaged in standard boxes.
2011-2020 accessories sets
note: for the 1:350 scale models, unless otherwise noted
Release
Item No.
Contents
2011
MKA001
Five decal sheets with "Aztec"-pattern, one sheet with alternate ship names and registry numbers as well as engineering colors in blue, gray, and green



sticker

MKA002
Off-shoot decal sheet for the 1:1000 scale refit model
MKA003
Off-shoot decal set of four sheet for AMT's 1:537 scale USS Reliant model kit
2012
MKA004
Supplemental parts pack to modify the model for its appearance in either "

The Cage

" or "

Where No Man Has Gone Before

"



box

MKA005
"Deluxe accessories set"; contains the contents of MKA006, 008 and 009



box

MKA006
Detailed lighting kit



box

MKA008
Weathering decal sheets



sticker

MKA009
Photo-etched details sheet
MKA010
Alternate ship names and registry numbers decal sheet



sticker

2014
MKA012
Detailed decal sheets for POL906 (1:1000), including decals for other Miranda-class vessels
2016
MKA015
Alternate "smooth" dorsal saucer part, without gridlines as standard included in POL938
MKA017
Improved decal sheets for the AMT 1:1000 USS Excelsior kit
MKA018/12
Expanded 2017 reissue of MKA004



box

2017
MKA019
Aztec decal sheets for the AMT 1:1400 USS Enterprise-D kit
MKA020
Weathering decal sheets for the AMT 1:750 Galor-class kit
MKA021
Improved 2017 reissue of MKA003
2018
MKA031
Lighting kit and brass etched detailing for POL950



box

2020
MKA040
Aztec decal sheets for POL974 & 975 (1:1000)
MKA041
Lighting kit for POL973M (1:1000)



box

MKA042
Three Aztec decal sheets for POL973M (1:1000)
2021
MKA048
Improved reissue MKA006



box

MKA050
Improved reissue MKA001
External links
Collectormodel.com – Round2 blog including Polar Lights products
The Polarpaedia – the history of Polar Lights and especially the now defunct Polar Lights Bulletin Board