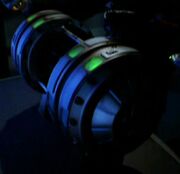 A polaron modulator is an advanced device capable of using polarons to enhance shielding aboard starships.
In 2377, the Nygeans and the USS Voyager crew, while working together to escape the Void, realized they needed a polaron modulator to create a shield bubble around all of the allied ships capable of withstanding the graviton stresses of escaping. Unfortunately, it was a rare item not carried by many ships in the Void.
One prospective member, Bosaal, offered one he had procured when he raided a Kinjal frigate, remarking that "they won't be needing it anymore." Captain Kathryn Janeway expelled him from the Alliance, and the Nygeans and B'Elanna Torres had to create one from scratch. Eventually, they were successful, and the allied ships were able to escape the Void. (VOY: "The Void")
Community content is available under
CC-BY-NC
unless otherwise noted.