Star Trek and pop culture
From time to time various popular culture references have appeared in Star Trek as in-jokes. These references, while mostly included in background displays, have also been in spoken dialogue.
The following articles contain references, or homages, to various popular culture media sources.
Numerous science fiction writers have been referenced or acknowledged throughout the series, including Isaac Asimov (Amasov), Robert Heinlein, Ray Bradbury (USS Bradbury, Bradbury-class), Arthur C. Clarke (Clarke's Disease, 2001: A Space Odyssey, Clarke's Third Law), Theodore Sturgeon (Sturgeon), Jules Verne (Verne), and H.G. Wells (Wells-class).
From fiction
Edit
Production
2001: A Space OdysseyEdit
Crossover performers
Production
20,000 Leagues Under the SeaEdit
Albedo AnthropomorphicsEdit
Crossover performers
Production
Alice's Adventures in WonderlandEdit
In addition, the stories and their characters were also directly referenced a number of times. See Alice's Adventures in Wonderland and Alice Through the Looking Glass.
At the Mountains of Madness by H.P. LovecraftEdit
Crossover performers
Production
Babylon 5Edit
Back to the FutureEdit
Crossover performers
Production
Crossover performers
Production
See also main article The Big Bang Theory
Crossover performers
Blade RunnerEdit
Crossover performers
Production
The Blues BrothersEdit
Crossover performers
The Adventures of Buckaroo Banzai Across the 8th DimensionEdit
Crossover performers
Production
Buffy the Vampire SlayerEdit
Crossover performers
Production
Calvin and HobbesEdit
Car 54, Where Are You?Edit
Crossover performers
CasablancaEdit
Crossover performers
CloverfieldEdit
Production
Colossus: The Forbin ProjectEdit
Crossover performers
Crossover performers
Production
Dick Tracy (1990)Edit
Crossover performers
Production
Dirty PairEdit
Dr. Strangelove or: How I Learned to Stop Worrying and Love the BombEdit
Doctor WhoEdit
The Firesign TheatreEdit
The First Men in the MoonEdit
The FlintstonesEdit
Crossover performers
Forbidden PlanetEdit
Crossover performers
Gall ForceEdit
Gilligan's IslandEdit
Gulliver's TravelsEdit
The Hitchhiker's Guide to the GalaxyEdit
Crossover performers
Production
Honneamise (Oneamisu) No Tsubasa (The Wings of Honneamise)Edit
An Earth Cold War movie distributed by Paramount Pictures.
Crossover performers
Production
Indiana JonesEdit
Crossover performers
Production
James BondEdit
The Star Trek: Deep Space Nine episode "Our Man Bashir" is basically a parody of the James Bond franchise.
In TOS: "I, Mudd", a busty female android (played by Marlys Burdette), wearing a red dress, has the identification number "007" on her neckpiece, possibly an in-joke reference to the Bond films.
Crossover performers
Production
The JetsonsEdit
Crossover performers
Jurassic ParkEdit
Crossover performers
Production
Known SpaceEdit
Looney Tunes
Edit
M*A*S*H is an oft-referenced movie and show in Star Trek. Its unit number, 4077, was frequently used on viewscreens and computer readouts.
Crossover performers
The Magnificent SevenEdit
Crossover performers
Magnum PIEdit
The Man from U.N.C.L.E.Edit
Crossover performers
Marx BrothersEdit
The Manchurian CandidateEdit
Max HeadroomEdit
Crossover performers:
Men In BlackEdit
Crossover performers
MetropolisEdit
Crossover performers
My Neighbor TotoroEdit
Mystery Science Theater 3000Edit
National Lampoon's Animal HouseEdit
Crossover performers
Night of the Creeps (1986)Edit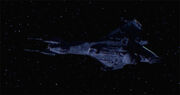 The visual effects for this American science fiction horror comedy film, were produced by the company of future Star Trek Visual Effects Supervisor David Stipes, "David Stipes Productions". The studio model of the alien mother ship, designed by Steve Burg and built by Ron Thornton and seen in the closing scenes of the movie, was later loaned to Paramount Television for it to appear as the Promellian battle cruiser – albeit in a reversed longitudinal orientation, but otherwise unaltered – in The Next Generation third season episode "Booby Trap", continuing to make later, additional appearances as various alien vessels in the Deep Space Nine episodes DS9: "Sanctuary", "Sons of Mogh", and "The Muse".
The PrisonerEdit
Ranma Nibunnoichi (Ranma ½) Edit
Red DwarfEdit
Ren and StimpyEdit
Crossover Performers
Production
Sherlock HolmesEdit
Crossover Performers:
Crossover Production:
SnagglepussEdit
In Star Trek Beyond, Kirk tells Spock to "Skip to the end!", quoting the popular line from Spaced. This was included by Spaced and Beyond writer Simon Pegg. [1]
Star WarsEdit
The Three StoogesEdit
Crossover performers
Production
Tinker, Tailor, Soldier, SpyEdit
Crossover performers:
The Twilight ZoneEdit
In "Carbon Creek", Trip Tucker said "Sounds like an old episode of the Twilight Zone" in response to the Vulcans' crash-landing.
William Shatner, Leonard Nimoy, James Doohan, and George Takei have all appeared in Twilight Zone episodes. Also, Star Trek writers George Clayton Johnson, Richard Matheson, and Jerry Sohl were regular contributors to the series. TOS directors Robert Butler, Ralph Senensky, Robert Gist, and Tony Leader have also worked on The Twilight Zone.
Crossover performers
Production
A World War II movie.
Crossover performers
Production
Urusei YatsuraEdit
The West WingEdit
Crossover performers
When Worlds CollideEdit
Crossover performers
A silent aviation war movie, this 1927 production was the very first theatrical movie to win the "Best Picture" Academy Award. On the occassion of the studio's 100th anniversary, US$700,000 was spent for an extensive restoration and remastering of the movie, the result of which released in 2012. [2] Originally running for 111 minutes, the restored version reinserted most of the trimmed and deleted scenes, which extended the new version to 144 minutes.
Production
The X-FilesEdit
Crossover performers
Yogi BearEdit
The Beatles
Edit
See also: The Beatles
The Clash
Edit
Fold Zandura
Edit
The Kronos Quartet
Edit
Nine Inch Nails
Edit
Frank Sinatra
Edit
Siouxsie Sioux
Edit
Related links
Edit