Memory Alpha is a collaborative project to create the most definitive, accurate, and accessible encyclopedia and reference for everything related to Star Trek. The English-language Memory Alpha started in November 2003, and currently consists of 53,857 articles. If this is your first visit, please read an introduction to Memory Alpha.
---
Interactive timeline
With the
Star Trek
franchise growing faster than ever, this interactive video
timeline
will serve as a springboard for fans, young and old, to experience how
Star Trek
history fits together. Styled to mimic the
LCARS
interface, a simple click through the timeline will introduce you to each era with a video overview. Here you will discover key plot points of each of the series and movies set during that time. You also have the option to dive deeper in each subject by bringing up articles directly from within the video. Click below to discover more information about Memory Alpha in a unique way!
---
---
A Memory Alpha - Fandom collaboration, this interactive timeline aims to guide you through all the various ships and captains along with where they fall in Trek history.
Latest news
31 July 2022

Nichelle Nichols, who played Lieutenant Nyota Uhura on Star Trek: The Original Series, Star Trek: The Animated Series, and the first six films, has died at the age of 89. [1]
27 July 2022

Tony Dow, who directed the Star Trek: Deep Space Nine episode "

Field of Fire

", died at the age of 77, one day after a premature death announcement was made regarding Dow. [2]
25 July 2022

Actor Paul Sorvino, who played Nikolai Rozhenko in the Star Trek: The Next Generation seventh season episode "

Homeward

" has passed away at the age of 83. [3]
Additionally, veteran British actor David Warner, who appeared in Star Trek V: The Final Frontier, Star Trek VI: The Undiscovered Country, and the Star Trek: The Next Generation episodes "

Chain of Command, Part I

" and "

Chain of Command, Part II

", has died at the age of 80. [4]
Upcoming episodes/films • Upcoming merchandise • Today in Trek history
Featured article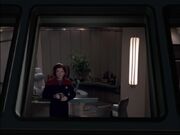 "Good Shepherd" was the twentieth episode of the sixth season of Star Trek: Voyager.
Captain Janeway looks out her ready room window into space as her door chirps. Chakotay enters and informs her that Seven of Nine wants to present her ship-wide efficiency report to the senior staff. Janeway says to put her on the schedule. Chakotay also reminds her that they'll be passing through a class-T cluster in the next couple of days, not important enough to alter course, but Janeway thinks it's at least important enough to send out the Delta Flyer and to get a full range of scans. Chakotay nods, and leaves.
On the bridge, Chakotay relays the captain's orders. He tells Tom Paris to prepare the Delta Flyer for the mission, and Harry Kim to do a level 3 analysis of the cluster. Harry Kim contacts Seven, asking her to increase metagenic resolution in the long-range sensors.
In astrometrics, Seven and Crewman Tal Celes, a young Bajoran woman, are working on the sensors. Seven types some data into a PADD and hands it to Celes, telling her to take it to Lieutenant Torres. Celes exits, and walks down the corridors to a turbolift. "Deck 11", Celes tells the computer as the turbolift begins whirring.
Editing Memory Alpha
Basic information
About the encyclopedia
Writing articles
Works in progress