Memory Alpha is a collaborative project to create the most definitive, accurate, and accessible encyclopedia and reference for everything related to Star Trek. The English-language Memory Alpha started in November 2003, and currently consists of 50,687 articles. If this is your first visit, please read an introduction to Memory Alpha.
---
Featured article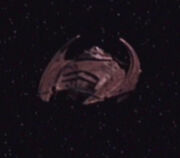 The Vahklas was a Vulcan civilian transport commanded by Tavin, the leader of its crew of V'tosh ka'tur. The vessel used a Vulcan frequency to hail other ships and was capable of visual communication. The Vahklas left the planet Vulcan in approximately 2143.
Although the crew of the Vahklas disagreed with the common interpretation of Surak's teachings, an ornament resembling the Vulcan philosopher was displayed in a room aboard the transport ship.
In 2151, the
Vahklas
encountered the United Earth starship
Enterprise
, charting the nearby Arachnid Nebula, far from the planet Vulcan. Captain Jonathan Archer, commanding officer of
Enterprise
, commented that he had never seen a Vulcan ship like the
Vahklas
before. Sub-Commander T'Pol revealed that the Vulcans had not used the class of ship the
Vahklas
belonged to for a long time.
Editing Memory Alpha
Basic information
About the encyclopedia
Writing articles
Works in progress
Community content is available under
CC-BY-NC
unless otherwise noted.