Memory Alpha is a collaborative project to create the most definitive, accurate, and accessible encyclopedia and reference for everything related to Star Trek. The English-language Memory Alpha started in November 2003, and currently consists of 51,293 articles. If this is your first visit, please read an introduction to Memory Alpha.
---
Featured article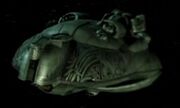 Harrad-Sar's barge was a design of Orion starship that was piloted by Harrad-Sar.
Harrad-Sar's barge was equipped with powerful weapon systems. It also had scanners that could detect mineral deposits below the surface of a planet, although their results could sometimes be incomplete. The ship was capable of receiving and transmitting visual communications between itself and another vessel. It had an advanced propulsion system and was capable of extremely erratic and swift movements. If its engines were damaged, the craft could still use its on-board impulse drive. The vessel was also able to dock with other ships and was capable of towing spacecraft with the use of a towing cable, a tactic that was often utilized to commandeer enemy vessels.
At least two rooms were contained within the craft. The vessel's bridge had a padded, black chair directly facing a visual communications device that was slightly to the side of a brilliant white light. Behind the chair, three tiny lights hung from the ceiling at different angles and helped to illuminate the room. The lights were positioned between the padded chair and a wall decorated with an intricate Orion design. The wall itself was brown but its Orion design incorporated little green lights.
Editing Memory Alpha
Basic information
About the encyclopedia
Writing articles
Works in progress