Memory Alpha is a collaborative project to create the most definitive, accurate, and accessible encyclopedia and reference for everything related to Star Trek. The English-language Memory Alpha started in November 2003, and currently consists of 51,150 articles. If this is your first visit, please read an introduction to Memory Alpha.
---
Featured article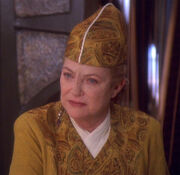 Winn Adami was an ambitious Bajoran religious leader and the first Kai of Bajor elected after the Cardassian Occupation. A member of a frequently outspoken orthodox order, Winn was steadfastly rooted in her faith and often came into conflict with the Emissary of the Prophets, Benjamin Sisko, who she considered an outsider unworthy of receiving the wisdom of the Prophets. After years of living in Sisko's shadow, however, and a lifetime of never receiving any guidance and affirmation from the Prophets who she had served and sworn allegiance to all her life, she eventually turned against them.
During the Occupation, Winn was imprisoned for five years for teaching the faith of the Prophets. She received numerous beatings at the hands of the Cardassians for her beliefs. Winn resented the belief of some members of the Bajoran Resistance that they alone had saved Bajor, since she had faced as much danger and suffering as they, but she did not have weapons to protect her.
As a Ranjen, Winn once convinced the head of her order to take a more active role in helping the Bajoran people. He allowed her to remove gemstones from their tabernacle, with which she used to bribe Cardassian officers for small acts of kindness.
Editing Memory Alpha
Basic information
About the encyclopedia
Writing articles
Works in progress
Community content is available under
CC-BY-NC
unless otherwise noted.