Memory Alpha is a collaborative project to create the most definitive, accurate, and accessible encyclopedia and reference for everything related to Star Trek. The English-language Memory Alpha started in November 2003, and currently consists of 53,771 articles. If this is your first visit, please read an introduction to Memory Alpha.
---
Interactive timeline
With the
Star Trek
franchise growing faster than ever, this interactive video
timeline
will serve as a springboard for fans, young and old, to experience how
Star Trek
history fits together. Styled to mimic the
LCARS
interface, a simple click through the timeline will introduce you to each era with a video overview. Here you will discover key plot points of each of the series and movies set during that time. You also have the option to dive deeper in each subject by bringing up articles directly from within the video. Click below to discover more information about Memory Alpha in a unique way!
---
---
A Memory Alpha - Fandom collaboration, this interactive timeline aims to guide you through all the various ships and captains along with where they fall in Trek history.
Featured article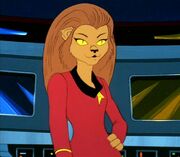 Lieutenant M'Ress was a Caitian Starfleet operations division officer who served aboard the USS Enterprise under Captain James T. Kirk during the final two years of his five-year mission.
M'Ress' primary role on the
Enterprise
was that of the relief communications officer, a role she fulfilled in the absence of Lieutenant Uhura. Her duties included activating intership and intraship communications, as well as the activation of any alert signals ordered by the captain.
Editing Memory Alpha
Basic information
About the encyclopedia
Writing articles
Works in progress