Memory Alpha is a collaborative project to create the most definitive, accurate, and accessible encyclopedia and reference for everything related to Star Trek. The English-language Memory Alpha started in November 2003, and currently consists of 50,491 articles. If this is your first visit, please read an introduction to Memory Alpha.
---
Featured article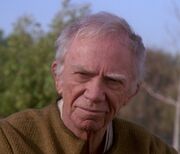 Mr. Boothby was the curmudgeonly groundskeeper at Starfleet Academy in San Francisco on Earth. He was born in the mid to late 23rd century and has been working at Starfleet Academy since about 2321. He has seen a lot of promising young cadets come and go, often offering up helpful advice and kind words; among them such prominent Starfleet captains as Jean-Luc Picard, Kathryn Janeway, Richardson, and Lopez.
Boothby was disdainful of herbicides and other high-tech devices, and preferred to tend to the grounds by hand. After a big parrises squares win in 2324, it took Boothby three weeks to repair the grounds following the celebration. In 2368, Boothby claimed that he was cranky because he had been forced to replant the same flower bed several times.
Editing Memory Alpha
Basic information
About the encyclopedia
Writing articles
Works in progress
Community content is available under
CC-BY-NC
unless otherwise noted.