Featured merchandise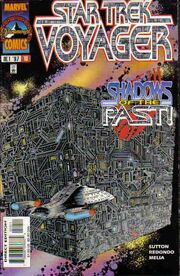 "Ghosts": Shadows of the past! is a Star Trek: Voyager comic book published by Marvel Comics in October 1997 in which Voyager encounters a temporal rift, showing them the Battle of Wolf 359.
En route to the Alpha Quadrant, the USS Voyager suddenly encounters an all-too-familiar sight: on-screen, they witness the carnage of the Battle of Wolf 359. Tuvok suggests it may be some elaborate deception, noting that the battle took place six years prior. Ensign Kim however, informs Captain Janeway that he detects high concentrations of chronitons, suggesting time travel is involved.
As Voyager backs away, the images of the battle disappear, but in their place, the crew detects several Federation escape pods. Tuvok again recommends caution, but Ensign Kim detects life signs on board, as well as a genuine Federation distress signal.
Further scans show the pods to be survivors of the USS
Saratoga
, the USS
Roosevelt
, and the USS
Melbourne
, the flagship of Admiral Hanson.
Voyager
is unable to communicate with the pods, so Captain Janeway orders the survivors to be beamed to sickbay. Tuvok informs her the transporter would be unsafe, due to the chroniton radiation, so the tractor beam is used to tow the pods into the shuttlebay. Janeway is still understandably apprehensive about the situation, so she orders security to meet her there to find out who or what is inside...
Upcoming releases
| | | |
| --- | --- | --- |
| April | May | June |
Novels

| | |
| --- | --- |
| | Novelizations: |
| Series: | Collections: |

Photonovels

Series:


Collections:


Comics

| | |
| --- | --- |
| | Adaptations: |
| Series: | Collections: |

Companies

| | |
| --- | --- |
| Publishers: | Games: |
| Record labels: | Collectibles: |
Community content is available under
CC-BY-NC
unless otherwise noted.