Featured episode or film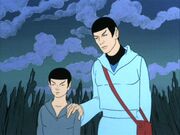 "Yesteryear" is the second episode of the first season of Star Trek: The Animated Series.
Spock, Kirk, and Erickson return through the Guardian of Forever after observing the dawn of Orion civilization. McCoy expresses surprise at the new arrival with Kirk and Erickson. Back on the Enterprise, McCoy reintroduces the ship's first officer for the past five years, an Andorian named Thelin.
"Captain's log, supplemental. When we were in the time vortex, something appears to have changed the present as we know it. No one aboard recognizes Mr. Spock. The only answer is... that the past was somehow altered."
Discovering that he had died at the age of seven and his mother soon afterward in a shuttle accident, Spock must travel back through the Guardian and try to prevent the events leading to his premature death.
Recent and upcoming premieres
Television series
Companion series
Films
Where to watch
Television
United States

All times ET

Australia

Brazil

Canada

Croatia

France

Germany

Hungary

Norway

Poland

Romania

Slovenia

Sweden

United Kingdom/Republic Of Ireland
---
Online
| | | | |
| --- | --- | --- | --- |
| United States |   | Canada | International |
Community content is available under
CC-BY-NC
unless otherwise noted.