Featured technology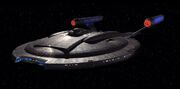 One of the most important starships in interstellar history, Enterprise (NX-01) was the culmination of the NX Project. The NX-01 was the first NX-class starship, launched by the United Earth Starfleet in 2151. Enterprise established United Earth as a legitimate interstellar power and caused a wholesale revolution in Alpha and Beta Quadrant politics, paving the way for the creation of the Coalition of Planets in 2155, and eventually the United Federation of Planets in 2161.
Enterprise was launched from the Orbital Drydock Facility on April 12, 2151, under the command of Captain Jonathan Archer. The launch occurred three weeks ahead of schedule, because of the need for United Earth to return Klaang, a Klingon, to his homeworld of Qo'noS. The early launch was strongly protested by Vulcan Ambassador Soval, who believed Humanity was not ready to explore space. He did manage to wrangle a concession from Starfleet, forcing Archer to allow the placement of Sub-Commander T'Pol, of the Vulcan High Command, on his vessel in exchange for Vulcan star charts.
Once Klaang was returned,
Enterprise
soon explored an argon-rich planet occupied by slug-like animals. Not long afterwards, the crew descended on and explored their first class M planet, eventually named Archer IV. The crew also made first first contact with a pre-warp civilization shortly afterwards.
Spacecraft
Other technology