Featured technology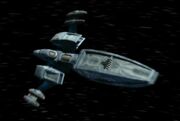 The Andorian battle cruiser was a type of warship in service with the Andorian Imperial Guard during the mid-22nd century.
The Andorian battle cruiser was considerably more rugged than the designs utilized by contemporary United Earth Starfleet vessels. Like all Andorian combat vessels, the Andorian battle cruiser was constructed using a "significant quantity" of duranium alloy. Despite the vessel's fairly large size, it was crewed by a complement of only eighty-six. In comparison, Starfleet's smaller NX-class had a standard compliment of eighty-three.
The outboard plan of the Andorian battle cruiser's design consisted of a central "spine" that contained a vertically bifurcated forward hull containing several decks. The central "spine" gradually narrowed toward the aft section of the ship where it connected to two vertically stacked warp nacelles. Located midway down the "spine" were a pair of forward-swept wings which contained the impulse engines and defensive systems.
Spacecraft
Other technology