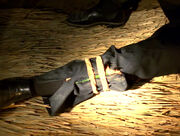 A poultice was a soft moist mass which was spread on a cloth, to treat a part of the body that was injured.
In 2378, Commander Chakotay's leg was injured after he and Seven of Nine beamed off their Class 2 shuttle just before it was destroyed by an energy barrier on Ledos. After being taken in by the Ventu, a group of primitives, Chakotay's leg was healed by them when they placed a poultice on it.
After Chakotay returned to the USS Voyager, The Doctor examined his leg in sickbay and was impressed with the medical expertise of the Ventu. (VOY: "Natural Law")
External link
Community content is available under
CC-BY-NC
unless otherwise noted.