Hawkeye Is Here To Amaze - The Loop
Play Sound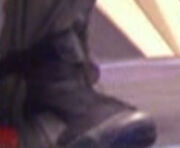 Product placement refers to a form of advertising in which branded goods are incorporated into the content of entertainment such as television shows and movies. Due to its futuristic setting, product placement is relatively rare in Star Trek productions. To date, it has only appeared in several of the films and in episodes of Star Trek: Voyager and Star Trek: Enterprise.
In the documentary POM Wonderful Presents: The Greatest Movie Ever Sold, J.J. Abrams was interviewed regarding the product placement in his films, including Star Trek. Abrams noted that it was a "necessary evil", which has to be minimized so that it does not interfere with the creation of a fictional world. [1]
Instances of product placement in Star Trek include:
Other real products featured in Star Trek
On the other hand and reversely, merchandise from the Star Trek franchise has often been featured in contemporary movie and television productions, most conspicuously in the Star Trek friendly sitcom The Big Bang Theory, which also mentions the franchise on occasion.
External link