This is a list of production staff members who were officially considered to work on Star Trek productions, but ultimately did not work on it.
Ray Bradbury
Edit
Ray Bradbury (1920 - 2012) was a legendary science fiction author and screenwriter, who was asked by the Star Trek production staff to pitch stories for the series. Bradbury visited the sets, but finally said no. (Star Trek: The Original Series Season 1 DVD Special Features) Bradbury was mentioned in dialogue in DS9: "Far Beyond the Stars" and the USS Bradbury was named in his honor.
Bradbury is probably most well-known for his dystopian novel Fahrenheit 451, his anthologies The Martian Chronicles and The Illustrated Man, and the horror novel Something Wicked This Way Comes, which all have been made into films or television series. He also wrote the screenplays for the 1956 version of Moby Dick (co-starring Orson Welles) and the 1953 sci-fi film It Came From Outer Space. He also wrote the teleplay for The Twilight Zone episode "I Sing the Body Electric". Between 1985 and 1992 Bradbury hosted the anthology series The Ray Bradbury Theater, which featured television adaptations based on his short stories. One of the episodes called "The Playground" starred William Shatner.
Tom Gries
Edit
Tom Gries (1922 - 1977) was a director, mostly working in television, who was originally hired to helm "Miri", however he got busy with another project, and had to be replaced by Vincent McEveety. (These Are the Voyages: TOS Season One)
Gries, a former US Marine and newspaper reporter, began his career in the early 1950s and worked on television until his death due to a heart attack. Starting with directing live television shows such as Chevron Hall of Stars and Science Fiction Theatre, he eventually moved to direct several series, including Checkmate, Route 66, The Man from U.N.C.L.E., Batman and I Spy. In 1971 Gries directed the sci-fi pilot Earth II, which co-starred Gary Lockwood.
Earl Hamner, Jr.
Edit
Earl Hamner, Jr. (10 July 1923 – 24 March 2016; age 92) was a television writer and producer, best known as the creator of The Waltons (1972-81) and Falcon Crest (1981-90). He also wrote eight episode of the original The Twilight Zone.
Hamner pitched a story for the first season of The Original Series, but his idea did not sell to the producers. (These Are the Voyages: TOS Season One, p. 363)
Bernard L. Kowalski
Edit
Bernard L. Kowalski (1929 - 2007) was a film and television director who was originally scheduled to helm "The Naked Time", but he had to back down due to another commitment, and was replaced by Marc Daniels. (Inside Star Trek: The Real Story, These Are the Voyages: TOS Season One)
A prolific and always in-demand director, Kowalski was nominated for two Emmy Awards during his career, spanning more than four decades. During this time he directed numerous episodes of Perry Mason, The Untouchables, Mission: Impossible, Banacek, The Rockford Files, Columbo (including "Fade In to Murder", guest starring William Shatner, and featuring Walter Koenig), Baretta, Knight Rider, Airwolf, Magnum P.I., Jake and the Fatman and Diagnosis Murder, among others.
Harry Stradling, Jr.
Edit
Harry Stradling, Jr. (7 January 1925–17 October 2017) was a cinematographer, who was originally considered by Gene Roddenberry as the director of photography on The Original Series. However, Stradling was busy working on Gunsmoke at the time, and didn't want to leave his job in favor of a new, unproven series. After several unsuccessful attempts by Roddenberry to convince Strandling, his father, legendary cinematographer Harry Strandling, Sr. came to Desilu studios with his godson, Jerry Finnerman to recommend him in the place of his son. Roddenberry and associate producer Robert Justman eventually hired Finnerman, who turned out to be an excellent choice. (Inside Star Trek: The Real Story, These Are the Voyages: TOS Season One)
After he finished his tenure on Gunsmoke, Stradling became a successful feature film cinematographer, working on films such as Little Big Man (1971, with Jeff Corey and Alan Oppenheimer), 1776 (1972), The Way We Were (1973, with Diana Ewing, Don Keefer and Roy Jenson), McQ (1974, with Diana Muldaur), Convoy (1978, with Madge Sinclair, Seymour Cassel and Robert Herron) and Blind Date (1987, with John Larroquette, George Coe, Momo Yashima, Armin Shimerman and Dick Durock).
Stradling died on 17 October 2017 at the age of 92. [1]
Philip Kaufman
Edit
Philip Kaufman (born 1936) is a director and screenwriter who was hired to direct the unmade Star Trek television movie, Planet of the Titans in 1977. (The Star Trek Compendium)
Chicago-born Kaufman wrote and directed many successful films during his career, including the 1978 remake of Invasion of the Body Snatchers, co-starring Leonard Nimoy, The Right Stuff (1983), The Unbearable Lightness of Being (1988), Henry and June (1990) and Quills (2000). As a writer, he penned films such as The Outlaw Josie Wales (1974) and Raiders of the Lost Ark (1981, co-starring John Rhys-Davies).
Robert Collins
Edit
Robert L. Collins (1 June 1930 – 21 October 2011; age 81) was a prolific television writer, producer and director, who was, in late-1977, hired to direct the pilot episode, "In Thy Image", for the proposed series Star Trek: Phase II. Collins was released from the project when the studio decided to make a feature film instead of a television series, as he had no experience in helming big screen film projects. Veteran director Robert Wise was hired in Collins' place. (Star Trek Phase II: The Lost Series)
During his career in television, spanning roughly twenty years, Collins had written and directed several episodes of Police Story, Marcus Welby, M.D., Police Woman, Dan August, as well as television films such as Gideon's Trumpet (1980), which was produced by Robert Justman.
Bruce Logan
Edit
Bruce Logan is a cinematographer, visual effects supervisor and occasional director who was hired to serve as director of photography on the proposed series, Star Trek: Phase II in late-1977. (Star Trek Phase II: The Lost Series)
During his career, Logan worked as director of photography on films such as The Incredible Shrinking Woman (1981) and TRON (1982, co-starring David Warner), and also worked as visual effects supervisor on several projects, including Star Wars (1977), Airplane! (1980), Firefox (1982) and Batman Forever (1995, featuring Rene Auberjonois), mostly as an employee of Apogee, Inc.. He also occasionlly ventured into directing, mostly helming short films and music videos.
Vanna Bonta
Edit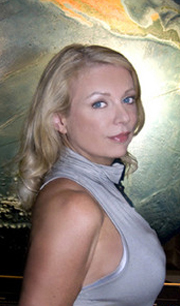 Vanna Marie Bonta (3 April 1958 – 8 July 2014; age 56) was a writer, actress, poet, and inventor who wrote an undeveloped story, "Somewhen", for TNG's first season. She was best known as the author of Flight: A Quantum Fiction Novel, which posits life as a multiuniverse and introduces the adventures of Aira Flight, an amnesiac girl with no navel. [2]
Her acting credits included an appearance in the 1982 fantasy film The Beastmaster as Zed's Queen, mother of Dar, the Beastmaster. The Beastmaster also starred Tony Epper, Rod Loomis, Diamond Farnsworth, Vince Deadrick, Sr., Tommy J. Huff, Eddie Donno, Eddie Hice, Freddie Hice, and Chuck Hicks. [3]
She was the inventor of the 2suit, a garment that facilitates intimacy and stabilizes physical proximity in zero gravity environments, and was featured on the series The Universe in the episode "Sex in Space", which premiered on The History Channel in December 2009.[4] In the documentary, Bonta tested her invention in zero gravity and talked about how her 2suit could be used to achieve intimacy in microgravity, a step towards the colonization of other planets. [5] [6]

Nelson Gidding
Edit
Nelson Gidding (1919 - 2004) was a prolific film and television writer, who was considered by Gene Roddenberry and Robert Justman to be hired as a staff writer for the first season of Star Trek: The Next Generation. Gidding wasn't interested in a staff position, but was willing to contribute to either the two-hour pilot episode, or another episode, although neither ultimately materialised. A report from Justman to Roddenberry on 3 December 1986 outlined the approach to Giddings, along with other writers. [7]
During his career, Gidding wrote the screenplay for such films as I Want to Live! (1958), The Andromeda Strain (1971) (both directed by Robert Wise), and Lost Command (1966).
Daniel Petrie
Edit
Daniel Petrie (1920 - 2004) was a film and television director, who was originally hired to direct the first season episode "Where No One Has Gone Before". Before he could start work on the episode however, he was offered the chance to direct the theatrical film Cocoon: The Return, and he accepted the offer and left the episode, resulting in his replacement at a very late stage by the inexperienced Rob Bowman. (Star Trek: The Next Generation Companion, p. 26)
Petrie started his career in television in the late 1940s, and worked in the medium for the next three decades, helming such series as East Side / West Side, The Defenders (starring William Shatner), The Nurses, Medical Center and Banyon. In the 1980s and 1990s Petrie enjoyed a short career in feature films, directing among others (and apart the previously mentioned Cocoon: The Return): Fort Apache the Bronx (1981), Six Pack (1982), Rocket Gibraltar (1988) and the 1994 version of Lassie.
Vincenzo Natali
Edit
Vincenzo Natali (born 6 January 1969; age 50) is a Canadian writer, producer and director of film and television. He was initially announced as a "producing director" for the first season of Discovery, but left before production on the series began, and was ultimately replaced by Olatunde Osunsanmi.
His early works were as a storyboard artist for Canadian animation studio Nelvana. In the late 1990s he moved into live-action work, his first film being Cube (1997, with Nicole de Boer), Cypher (2002) and Splice (2009, with production design by Todd Cherniawsky). The 2010s saw Natali move into television work, collaborating with Discovery creator Bryan Fuller on Hannibal (2013) and American Gods (2017).
Joe Cornish
Edit
Joe Cornish (born 20 December 1968; age 50) is a British screenwriter and director, who was Paramount Pictures' initial choice to direct Star Trek Beyond, before the project's writer, Roberto Orci was granted the director's chair. Cornish however, turned down the offer. [8] Eventually, Orci was let go by the studio, and Justin Lin was brought in to direct.
Cornish is probably best known for his 2011 science fiction film, Attack the Block. He also wrote the screenplay for 2011's comic book adaptation, The Adventures of Tintin: The Secret of the Unicorn, and for 2015's superhero film, Ant-Man. He also appeared as an actor in Hot Fuzz (2007), starring Simon Pegg and directed by Edgar Wright.
Claudio Miranda
Edit
Claudio Miranda (born March 1964) is a cinematographer who was announced as Director of Photography on the 2016 sequel Star Trek Beyond in October 2014. [9] With Roberto Orci's withdrawal as director and the hiring of Justin Lin, Miranda was no longer DoP and Stephen F. Windon replaced him. Miranda is best known for his work on Ang Lee's acclaimed film Life of Pi (featuring James Saito), for which he won the 2012 Academy Award for Best Achievement in Cinematography. [10]
Born in Valparaíso, Chile, Miranda began his film career as a lighting technician and electrician in the 1980s, ultimately becoming chief lighting technician on the 1994 comic book-based action-fantasy The Crow, which was co-written by John Shirley and featured Tony Todd. He subsequently served as chief lighting technician on three films for director Tony Scott: Crimson Tide (1995; featuring Earl Billings, Scott Grimes, art direction by Dianne Wager and Donald B. Woodruff, and set decoration by Mickey S. Michaels), The Fan (1996; featuring Earl Billings, Michael Bofshever, Dan Butler, Brad William Henke, Michael Jace, John Carroll Lynch, James MacDonald, and Richard Riehle) and Enemy of the State (1998; featuring Dan Butler, Jacob Chambers, and art direction by Donald B. Woodruff). The latter film was shot by Dan Mindel, who later directed the photography of Star Trek and Star Trek Into Darkness.
Miranda also collaborated with director David Fincher on several films, starting with 1995's Se7en (featuring Reg E. Cathey, Leland Orser, and Daniel Zacapa), on which Miranda was a gaffer for additional photography. He again served as gaffer on Fincher's next two films, The Game (1997; featuring Elizabeth Dennehy) and Fight Club (1999; featuring David Andrews, Tim de Zarn, Zach Grenier, David Lee Smith, and Matt Winston). Michael Kaplan was the costume designer for all three of these films. Miranda later served as an uncredited additional photographer on Fincher's Zodiac (2007; featuring Zach Grenier, John Carroll Lynch, David Lee Smith, Matt Winston, and art direction by Keith Cunningham), after which he was enlisted by Fincher to serve as Director of Photography on 2008's The Curious Case of Benjamin Button (featuring Spencer Daniels). It was Miranda's work on this latter film which earned him his first Academy Award nomination for Best Achievement in Cinematography.
In addition to Life of Pi and Benjamin Button, Miranda also shot the sci-fi films TRON: Legacy (2010, with Jeffrey Nordling) and Oblivion (2013), both for director Joseph Kosinski. He also shot the upcoming sci-fi mystery Tomorrowland, which was co-written by Damon Lindelof, produced by Lindelof and Jeffrey Chernov, scored by Michael Giacchino and features production design work by Scott Chambliss. [11]
Kim H. Winther
Edit
Kim H. Winther is an Assistant Director and Producer who was considered to work as First Assistant Director on the upcoming 2016 sequel Star Trek Beyond. [12] With the departure of Roberto Orci as the film's director and Claudio Miranda and the director of photography, Winther was replaced by first assistant director Nick Satriano.
Winther started his career in the 1980s when he worked as second assistant director on the television series Anne of Green Gables (1985), the television sport drama The Terry Fox Story (1983, starring Rosalind Chao and Saul Rubinek and with second assistant director Hagan Beggs), and the television crime drama Reckless Disregard (1986, with Ronny Cox).
Further credits as second assistant director include the science fiction horror film The Fly (1986), the drama Children of a Lesser God (1986, with Jack Blessing and Nicholas Guest), the horror film The Believers (1987, with Harris Yulin), the television drama Hostage (1988, with Leon Russom), the drama Cocktail (1988, with Lisa Banes, Laurence Luckinbill, and Justin Louis), Leonard Nimoy's drama The Good Mother (1988, film editing by Peter E. Berger), the comedy The Lemon Sisters (1989, with Richard Libertini), the crime comedy We're No Angels (1989, with Wallace Shawn), the drama M. Butterfly (1993), the comedy Cool Runnings (1993), Roland Emmerich's science fiction film Stargate (1994, with Leon Rippy, Erick Avari, Derek Webster, and Kairon John, and casting by April Webster), the television thriller Mortal Fear (1994, directed by Larry Shaw), the drama Little Women (1994, with Winona Ryder, Kirsten Dunst, and John Neville), the science fiction blockbuster Independence Day (1996), the crime comedy The Last Days of Frankie the Fly (1996, with Adam Scott), the comedy McHale's Navy (1997, with Dean Stockwell, music by Dennis McCarthy, and second unit direction by Glenn R. Wilder), and the family adventure Free Willy 3: The Rescue (1997, with Patrick Kilpatrick).
As first assistant director, Winther worked on projects such as the horror comedy Killer Party (1986), the television adventure Anything to Survive (1990), the science fiction remake Godzilla (1998), the science fiction thriller The Thirteenth Floor (1999, with Jeremy Roberts, Rif Hutton, Leon Rippy, Brad William Henke, Bob Clendenin, and Darryl Henriques), the war drama The Patriot (2000, with Rene Auberjonois and Leon Rippy), the war drama We Were Soldiers (2002), the comic adaptation Daredevil (2003, with Michael Clarke Duncan, Leland Orser, Erick Avari, Stan Lee, and Kane Hodder) on which he also worked as associate producer, the science fiction film The Day After Tomorrow (2004), the science fiction film The Gene Generation (2007, with Alec Newman, Daniel Zacapa, Hiro Koda, Jeff Imada, Nick Tate, and Googy Gress), also as co-producer, the science fiction thriller Jumper (2008), the crime comedy The Maiden Heist (2009), also as co-producer, the horror comedy Zombieland (2009, with Derek Graf, Elle Alexander, and Michelle Sebek), the video game adaptation Tekken (2010, with Cary-Hiroyuki Tagawa, John Pyper-Ferguson, and Gary Ray Stearns), the thriller Fair Game (2010, with Iris Bahr and Bruce McGill), the drama Secretariat (2010), the comic adaptation X-Men: First Class (2011, with Glenn Morshower and Ray Wise, story and produced by Bryan Singer, executive produced by Stan Lee, and second unit direction by Spiro Razatos), and the science fiction film Ender's Game (2013).
In 2005, Winther worked as first assistant director and co-producer on the action comedy Mr. and Mrs. Smith. In addition, he played the featured role of "Mr. Smith's Father" in the film. The film also features Jennifer Morrison, Greg Ellis, Megan Gallagher, Mark Newsom, and Jeff Yagher, was produced by Akiva Goldsman, costume design by Michael Kaplan, and makeup by Mary Burton, Ginger Damon, Tegan Taylor, Karen Westerfield, and Michael F. Blake.
More recently, Winther worked as first assistant director on the television action movie Exit Strategy (2014, written and produced by Roberto Orci and Alex Kurtzman and art direction by Lauren E. Polizzi), the drama Heaven Is for Real (2014) on which he also worked as co-producer, the science fiction film Edge of Tomorrow (2014) also as co-producer, the thriller The Coup (2015, with Spencer Garrett and Jim Lau), and the crime drama Term Life (2015, with Jonathan Banks). As Executive Producer he wrapped the comedy Stereotypically You (2014).
Undeveloped projects
Edit
S.J. Clarkson
Edit
S.J. Clarkson is a British film and television director who was slated to direct Star Trek 4, the intended sequel of Star Trek Beyond. [13]
She has previously directed various TV series, including Turn: Washington's Spies, Heroes, House, and Dexter.
Christopher McQuarrie
Edit
Christopher McQuarrie is a writer who was in talks with Bryan Singer, Robert Meyer Burnett, and Geoffrey Thorne about the creation of a new Star Trek series, Star Trek: Federation. They decided not to pitch their idea after the announcement of Star Trek. [14]
Community content is available under
CC-BY-NC
unless otherwise noted.