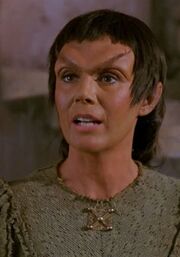 A proto-Vulcan humanoid was a humanoid species which showed traits of early Vulcans.
In 2366, anthropologist Doctor Barron's preliminary reports indicated that the Mintakans were proto-Vulcan humanoids at the Bronze Age level. This meant that they were quite peaceful and highly logical. (TNG: "Who Watches The Watchers")
See also
External link
Community content is available under
CC-BY-NC
unless otherwise noted.