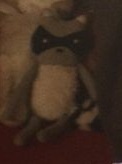 The raccoon was an Earth animal.
A coonskin cap could be made from the hides of raccoons. Ezri Dax mentioned this to Nog when updating him on what he'd missed during his convalescence from an accident that necessitated the amputation of his leg. (DS9: "It's Only a Paper Moon", "Badda-Bing, Badda-Bang")
In 2399, Kestra Troi-Riker had a raccoon plush doll in her bedroom at her home on the planet Nepenthe. (PIC: "Nepenthe")
External link
Edit
Community content is available under
CC-BY-NC
unless otherwise noted.