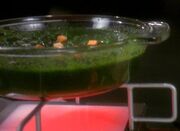 Ratamba stew was a Bajoran stew, emerald-green in color.
In 2372, Benjamin Sisko cooked some for his son and Kasidy Yates, serving it over spinach linguine. Yates noted that she could smell it down the corridor from his quarters. (DS9: "For the Cause")
External link
Edit
Community content is available under
CC-BY-NC
unless otherwise noted.