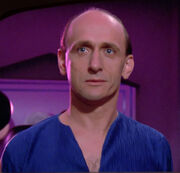 Raye Birk (born 27 May 1943; age 77) is an actor who made two Star Trek appearances. He portrayed the Tarellian Wrenn in the 1987 Star Trek: The Next Generation first season episode "Haven" and eleven years later a Son'a doctor in the feature film Star Trek: Insurrection.
He previously had played Papshmir, the man who hired Vincent Ludwig (Ricardo Montalban) to assassinate Queen Elizabeth II in The Naked Gun: From the Files of Police Squad! He also appeared in Throw Momma from the Train, in which Kate Mulgrew played a supporting role.
On television, he had a recurring role as the mailman Walt Twitchell on Cheers (with Kirstie Alley, Kelsey Grammer, and Paul Willson). He played the role three times on Cheers and once on the spinoff show, Frasier.
External links
Community content is available under
CC-BY-NC
unless otherwise noted.