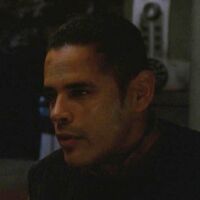 Raymond Cruz is the actor who played Vargas in the Star Trek: Deep Space Nine episode "The Siege of AR-558". He also supplied the voice of Lieutenant Jorge Gonzalez in the video game Star Trek: Elite Force II.
Cruz' other television roles include appearances on China Beach (starring Robert Picardo, Jeff Kober, Megan Gallagher, and Concetta Tomei), NYPD Blue (starring Gordon Clapp and Sharon Lawrence), The X-Files, The Practice, CSI: Miami, and 24. He currently has a recurring role on the series The Closer (with James Duff).
He has also appeared in such films as Gremlins 2: The New Batch (with Zach Galligan, Robert Picardo, John Glover, Dick Miller, Keye Luke, Jerry Goldsmith, Kenneth Tobey, and Henry Gibson), Dead Again (with Lois Hall and Steven Culp), Under Siege (with Colm Meaney, Bernie Casey, and Glenn Morshower), Bound by Honor (with Tom Towles, Natalia Nogulich, and Michael Bofshever, and Roxann Dawson), Clear and Present Danger (with Harris Yulin, Vaughn Armstrong, Reg E. Cathey, and Elizabeth Dennehy), Broken Arrow (with Christian Slater, Casey Biggs, Bob Gunton, Vyto Ruginis, Vince Deadrick, James MacDonald, and Kurtwood Smith), Up Close & Personal (with Noble Willingham, Heidi Swedberg, and Jack Shearer), The Substitute (with Cliff DeYoung), The Rock (with Tony Todd and Tom Towles), Alien: Resurrection (with Ron Perlman, Brad Dourif, Leland Orser, and Winona Ryder), and Training Day (with Harris Yulin).
In 2010, Cruz received a Saturn Award nomination for Best Guest Starring Role on Television for his part in the drama series Breaking Bad. Fellow Trek actors Leonard Nimoy and Michelle Forbes are also nominated in this category. [1]
External links