For the cadet assigned to the alternate reality counterpart to this station, please see Fugeman.
The following individuals were personnel assigned to Regula I during the 23rd century. (Star Trek II: The Wrath of Khan)
Named
Unnamed
Chef
The chef was killed by Khan Noonien Singh when Khan discovered that the Genesis Device and related data were gone. According to Clark Terrell, Khan tortured the remaining crew, including the chef, but no one would reveal to Khan what he sought. As a result, Khan went wild, strung the remaining crew up and slit their throats.
Following the arrival of the USS Enterprise to Regula, the chef, as well as the other crew were discovered when Leonard McCoy unexpectedly walked into the chef's dangling arm.
After the murdered crew were cut down, McCoy stated that were not warm, but noted that rigor hadn't set in. (Star Trek II: The Wrath of Khan)
Female scientist
This scientist was a member of Carol Marcus' staff, working in the laboratory at Regula I in 2285. Along with the rest of the staff (with the exception of Marcus and her son, David), she was murdered by Khan Noonien Singh and his henchmen. (Star Trek II: The Wrath of Khan)
Male scientist #1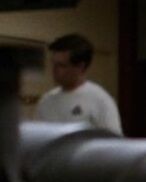 This scientist was a member of Carol Marcus' staff, and worked in the laboratory in 2285. Along with the rest of the staff, he was murdered by Khan and his henchmen. (Star Trek II: The Wrath of Khan)
Male scientist #2
This scientist was a member of Carol Marcus' staff, and was murdered by Khan and his henchmen in 2285. (Star Trek II: The Wrath of Khan)