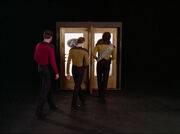 A revolving door was a type of door that spun in a circle.
In 2365, William T. Riker found an antique revolving door on Theta VIII which led to a recreation of the setting for the novel Hotel Royale. Jean-Luc Picard, surprised by the find, told Riker to be careful. (TNG: "The Royale")
In 2370, while stuck in the mirror universe, mirror Quark offered prime Kira Nerys access to a transporter if she gave him the ability to send people to the prime universe. Kira objected, saying she couldn't open a revolving door to her universe. (DS9: "Crossover")
External link
Edit
Community content is available under
CC-BY-NC
unless otherwise noted.