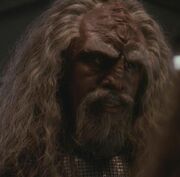 Oklahoma-born Robert DoQui (1934–9 February 2008) was the actor who played the Klingon Noggra in the Star Trek: Deep Space Nine episode "Sons of Mogh".
DoQui and fellow Star Trek guest actors Bruce Davison, Zane Cassidy and Charles Rocket won a Golden Globe award as part of the cast of Robert Altman's 1993 film Short Cuts. However, he is probably best known for playing Police Sgt. Warren Reed in the popular 1987 film RoboCop. This film also co-starred fellow Star Trek alumni Peter Weller, Ronny Cox, Kurtwood Smith, Miguel Ferrer, and Ray Wise. DoQui would go on to play Warren in two sequels: RoboCop 2 in 1990 (with Peter Weller, John Glover, Gabriel Damon, and Bill Bolender) and RoboCop 3 in 1993 (with Stephen Root and Lee Arenberg).
One of his earliest film roles was an uncredited appearance in 1965's The Cincinnati Kid, starring one-time TOS guest actors Jeff Corey and Ron Soble. In 1969, he co-starred with Leslie Parrish in The Devil's 8, and in 1970, he co-starred with TOS actress Nichelle Nichols in Tarzan's Deadly Silence.
Before Short Cuts, DoQui worked with Robert Altman on two other films from the legendary director: Nashville in 1975 (with Keith Carradine, Henry Gibson and Bert Remsen) and Buffalo Bill and the Indians, or Sitting Bull's History Lesson in 1979 (also with Remsen, as well as Joel Grey). DoQui's other films include The Man (1972, with William Windom and Janet MacLachlan), Coffy (1973, co-starring Booker Bradshaw and Sid Haig), My Science Project (1985, with Raphael Sbarge and Michael Berryman), Miracle Mile (1988, with Denise Crosby and Brian Thompson), and Diplomatic Immunity (1991, with Meg Foster).
DoQui was also part of the cast of two epic 1978 television mini-series featuring other Star Trek actors: How the West Was Won, with William Shatner, William Boyett, Fionnula Flanagan, Brian Keith, Ed Lauter, Ricardo Montalban, George D. Wallace, Morgan Woodward, and Harris Yulin; and Centennial, with Michael Ansara, Henry Darrow, Cliff deYoung, Robert Easton, Brian Keith, Sally Kellerman, Nick Ramus, Morgan Woodward, and Anthony Zerbe. He also co-starred with LeVar Burton, Madge Sinclair, and Robert Easton in the short 1976 made-for-television drama Almos' a Man.
External links
Community content is available under
CC-BY-NC
unless otherwise noted.